Federal Judge Finds Jimmy John's Guilty of Illegally Firing Whistleblowers in Sick Day Campaign : Long Delay in Legal Process Demonstrates Dysfunction of US Labor Law
Submitted on Mon, 04/23/2012 - 8:06pm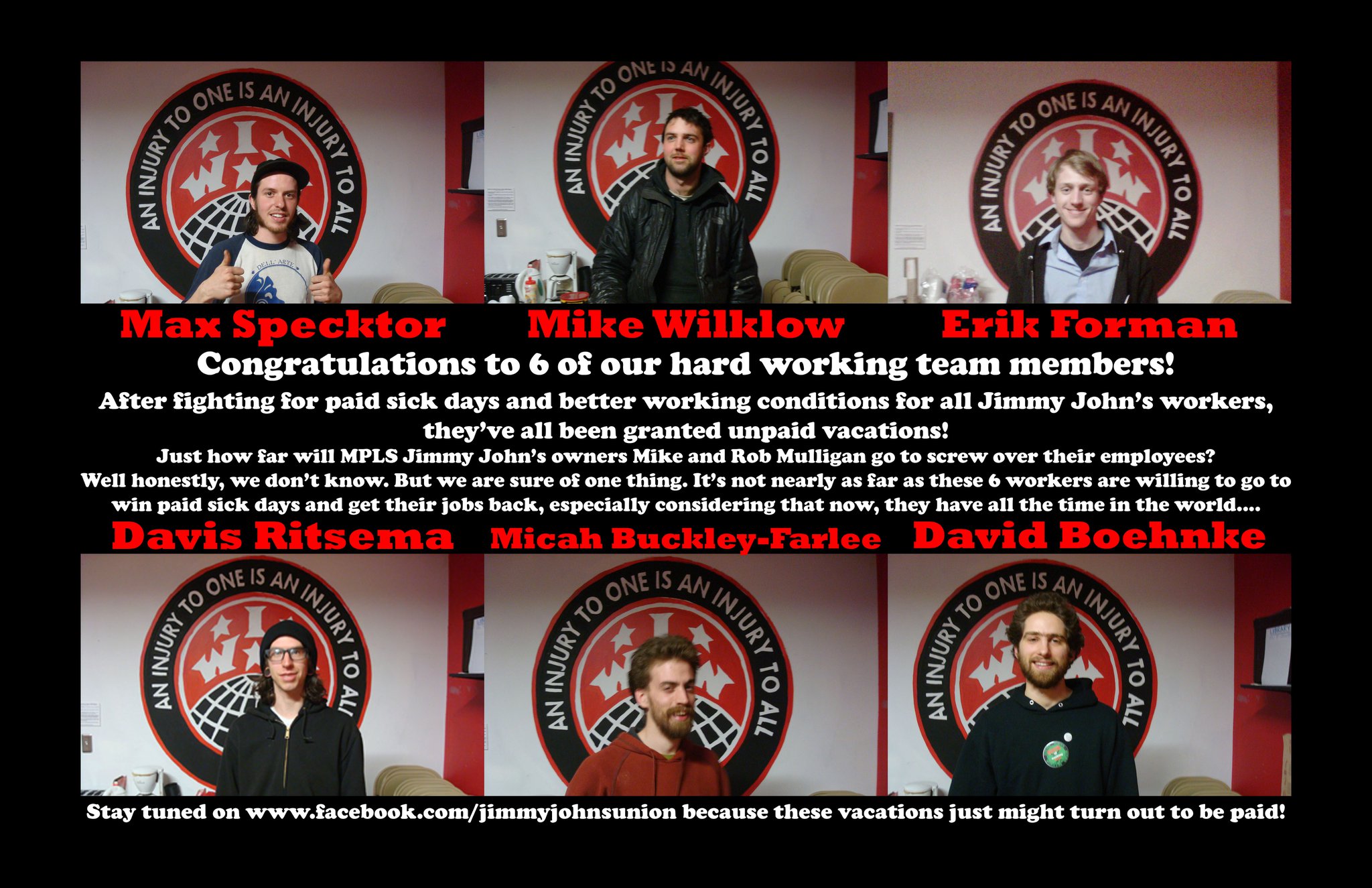 MINNEAPOLIS- A federal judge has ordered Jimmy John's to reinstate six workers fired by franchise owners Mike and Rob Mulligan over a year ago for blowing the whistle on company policies that expose customers to sandwiches made by sick workers. Jimmy John's workers can be written up or fired if they take a day off without finding a substitute when they are sick. A union survey revealed that this policy, in conjunction with minimum-wage workers' inability to afford to take a day off, result in an average of two workers making sandwiches while sick every day at the Minneapolis franchise of the chain. The judge's ruling requires that Jimmy John's reinstate the six workers with back pay within 14 days, but the employer could manipulate the appeal process to stall resolution of the case for several more years.
While the workers hail the judge's ruling as a victory for whistleblower rights, they point out that justice delayed is justice denied. "It has already been over a year since we were illegally fired for telling the truth. For all the hard work and dedication of the NLRB's civil servants, employers like Jimmy John's prefer to break the law and drag cases through the courts for years rather than let workers exercise their right to win fair pay, sick days, and respect through union organization," said Erik Forman, one of the fired workers, "The dysfunctional US labor law system gives Mike and Rob Mulligan and their cronies in the 1% carte blanche to trample on workers rights. Jimmy John's workers, and the rest of the 99%, will only be able to win a better life by taking our fight from the courtroom back to the shopfloors and the streets."
The story of the unionization effort at Jimmy John's reads like a cautionary tale about the inefficacy of labor law in the United States. A majority of Jimmy John's workers demanded union recognition in September 2010, primarily seeking a pay increase above minimum wage. In response, the company spent over $85,000 on a vicious anti-union campaign with the help of outside union-busting consultants. In spite of rampant illegal intimidation, the workers came within a hairs-breadth of victory in an 85-87 vote that the NLRB later threw out due to over 30 employer violations of federal labor law in the election period.
Ostensibly protected by an NLRB settlement agreement that required the employer to abide by the law, workers at Jimmy John's then began campaigning for the right to call in sick and paid sick days in January 2011. Despite the clear risk to public health of workers making sandwiches while ill, franchise owners Mike and Rob Mulligan stonewalled employee requests for sick day policy reform for more than two months, prompting union supporters to take their message to the public by posting 3000 copies of a poster explaining that workers are forced to make sandwiches while sick. Mike and Rob Mulligan lashed out in retaliation, firing six workers and disciplining others. On the witness stand, Mike Mulligan admitted under oath that he had fired the six workers because he perceived them as the "leaders and developers" of a unionization effort. Mulligan's credibility was further eroded when he testified to intentionally lying to the press about the franchise's food safety record.
While Jimmy John's has been able to exploit the weakness of US labor law to stomp on employee's right to organize, workers vow to press forward with their campaign for fair pay, guaranteed hours, sick days, and respect and dignity in fast food.
The Jimmy Johns Workers Union, open to employees at the company nationwide, is affiliated with the Industrial Workers of the World labor union. Gaining prominence in recent years for organizing Starbucks workers, the IWW is a global union founded over a century ago for all working people.