Food Safety Fight at Jimmy John's Escalates as Public Outcry Mounts over Mass Firing
Submitted on Sat, 03/26/2011 - 12:02pm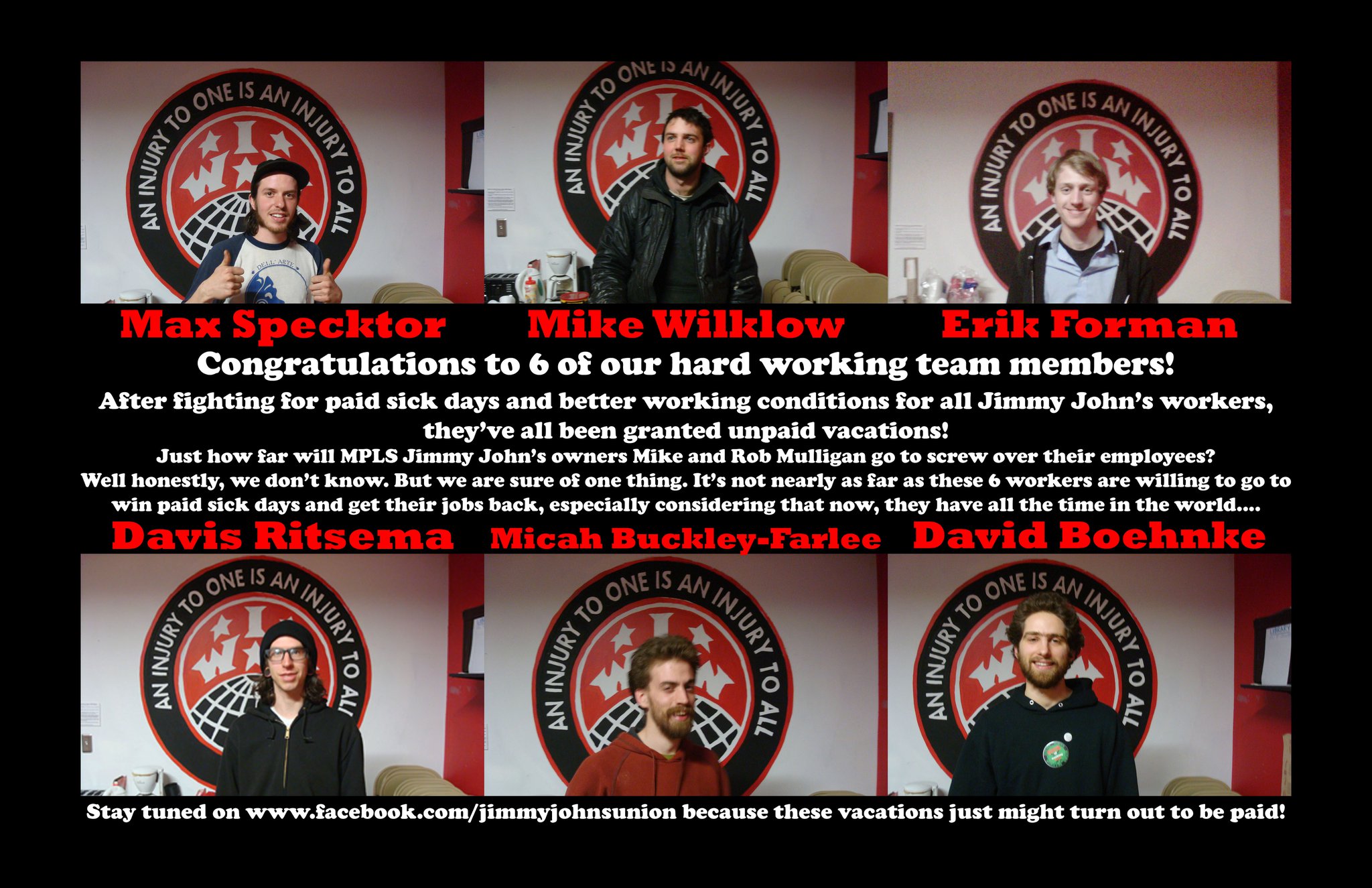 Whistleblower Workers Pledge Action for Right to Call in Sick, Paid Sick Days
Jimmy John's Workers Union- Industrial Workers of the World
Contacts: David Boehnke, 651-315-4222 and Davis Ritsema, 612-281-9772
March 25, 2011
MINNEAPOLIS- Thousands of community supporters have jammed Jimmy John's phone lines and flooded the chain's Facebook page with messages of outrage and support for six whistleblowers who were fired for exposing widespread coercion to work while sick at the chain. Today, the workers have announced that they plan to escalate actions against Jimmy John's until their demands for the right to call in sick, paid sick days, and reinstatement of the fired workers are met.
"We will not be silenced. Speaking out against the policy of forcing workers to work while sick is not only our right, it is our duty. " said Erik Forman, one of the fired sandwich workers. "The unfettered greed of franchise owner Mike Mulligan and Jimmy John himself jeopardizes the health of thousands of customers and workers almost every day. We will speak out until they realizes that no one wants to eat a sandwich filled with cold and flu germs."
Under current policy, Jimmy John's workers are disciplined for calling in sick if they cannot find a replacement. In addition, many workers are unable to afford to take a day off if they are ill because wages at the sandwich chain hover around the federal minimum of $7.25 an hour. The result of these pressures is that sandwich-makers often have to work while sick, creating an enormous public health risk.
After franchise management rebuffed numerous employee requests to reform the sick day policy, members of the IWW Jimmy John's Workers Union posted 3000 copies of a poster advising the public of health risks at the sandwich chain. Management fired six outspoken union members in retaliation.
The anti-union firings at Jimmy John's could easily backfire on the company. The IWW Jimmy John's Workers Union filed charges with the National Labor Relations Board yesterday seeking reinstatement of all fired workers.
The Jimmy Johns Workers Union, open to employees at the company nationwide, is affiliated with the Industrial Workers of the World labor union. Gaining prominence in recent years for organizing Starbucks workers, the IWW is a global union founded over a century ago for all working people.
For more information: http://www.jimmyjohnsworkers.org/