Industrial bakery workers launch new workplace justice campaign!
Submitted on Sun, 03/11/2012 - 3:11pm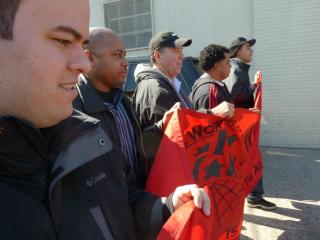 By Daniel Gross - March 9, 2012
Members of Focus on the Food Chain at one of New York City's largest industrial bakeries launched a campaign on Wednesday to win respect at work in the face of an aggressive attempt by the factory's new private equity owners to degrade their jobs. Drivers at Queens-based Tom Cat Bakery, a leading supplier of artisanal breads to many of the New York metro area's finest restaurants and gourmet food retailers, are forced to work under a highly abusive manager and are being threatened with severe health care cutbacks.
The Tom Cat workers, mostly Latin American immigrants, gathered yesterday in Long Island City with worker and student allies representing a variety of groups including the Occupy Wall Street Immigrant Worker Justice Working Group, Food Chain Workers Alliance, Jornaleros Unidos de Woodside, the Laundry Workers Center, the Restaurant Opportunities Center of New York, and Domestic Workers United.
Together, workers and supporters marched to the plant where the drivers read and delivered a Declaration of Dignity, outlining workers' expectations of management in the area of respectful treatment, affordable family health care, and equal treatment of all workers. The action was an incredibly inspiring start to the Tom Cat workers' march to justice and represents the latest effort in the growing movement to transform New York City's food processing factories and distribution warehouses.
New York City's food processing and distribution sector supports the livelihoods of 35,000 workers and their families, yet the sector is increasingly characterized by a business model that relies on low quality jobs and mistreatment of a largely immigrant workforce. Focus on the Food Chain is a member-led campaign of workers in the sector organizing to promote good jobs and a sustainable local food system. The Focus campaign is a joint project of Brandworkers and the NYC Industrial Workers of the World labor union.
The Tom Cat drivers need your support as they struggle to defend their dignity, challenge the inhuman strategies of the private equity industry, and create a food system based on human rights, rather than exploitation. Please stay tuned for upcoming actions that may be needed and to get more involved, e-mail Joseph Sanchez at jsanchez [at] brandworkers.org.
Check out some (more) inspiring photos of the event.
Thank you for all that you do on behalf of human rights and human dignity.