Industrial Worker—Summer 2017 no1780 vol 114, No. 3
Submitted on Thu, 08/10/2017 - 8:40pm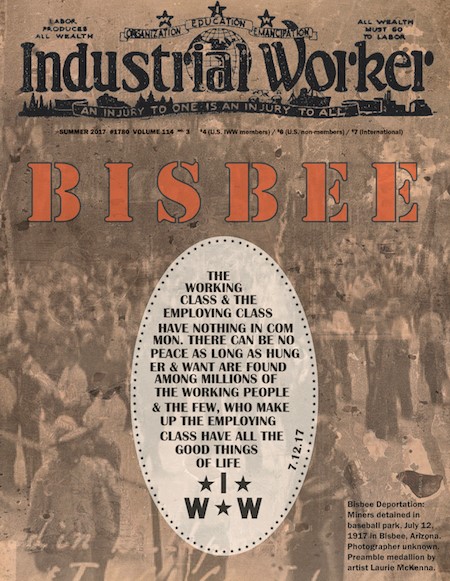 One hundred years ago—the summer of 1917—two events shaped the future of the IWW.
On July 12, 1917, 1,196 striking copper miners in Bisbee, Arizona, were loaded into cattle cars on a train that dropped them in the New Mexico desert. The IWW had been organizing the workers, many of whom were Mexican and could not join the miners' union white men belonged to. On June 27, 1917, the IWW called a strike for flat daily wages of comparable amounts for both under- and above-ground miners, as well as other reasonable demands. Enough workers went out on strike that mining operations were crippled. Therefore, enlisting the aid of Bisbee's Sheriff and around 1,000 men known as the Loyalty League, the mining companies hatched and implemented the plan that resulted in what came to be known as the Bisbee Deportation.
Frank Little was one of the IWW miners' organizers in Arizona and Montana, facing the powerful and ruthless copper-mine owners, who backed up their anti-union aims with a purchased press as well as gunmen, spies, and vigilantes. Fellow Worker Little was lynched by a mob in Butte, Montana, on August 1, 1917.
This issue of Industrial Worker looks at the historical work of agitating and organizing as well as the modern actions IWW members take to advocate for and organize workers marginalized by corporations, law enforcement, and society through actions on the street and in the workplace.
Download a free PDF of this issue.