Sisters Camelot Union Debunks Employer Propaganda
Submitted on Sun, 05/05/2013 - 10:48am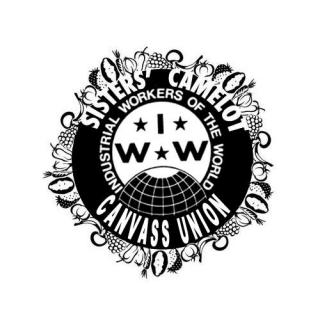 On Thursday, May 2 the Sisters' Camelot managing collective posted a long public statement on the internet addressing the current standoff between them and our striking union of canvass workers. Their statement is full of inaccurate information. Below are the most egregious inaccuracies, each with a concise explanation of the truth.
1. Sisters' Camelot: "We operate as an egalitarian democracy where no one member has a larger voice than any other, and all participate equally in the decision-making process. Anyone in the in the community – including the canvassers – can become a member of our collective and therefore have a full voice in its operations."
THE TRUTH: The collective has refused to allow some canvassers to join the collective when they showed interest. Other canvassers have decided the collective has been hostile towards them and the canvass in general. Many canvassers who have tried addressing canvass-related grievances through the collective process equate it to banging their head against a brick wall. Some canvassers are unable to attend Monday morning meetings because of obligations as parents, students, and workers at other jobs. The 6 collective members have hiring and firing power over us and the collective process has failed to address the grievances of canvassers, so we unionized to bring balance to the power dynamic in our workplace. Telling us to use the collective process is classic boss speak for telling workers they should go through pre-existing channels instead of unionizing.
2. SC: "After the group gave a list of demands (some, but not all, being reasonable), they gave the collective one hour to meet their demands. If not, they declared they would strike."
THE TRUTH: In our first meeting with the managing collective after unionization, we (the union) carefully went through our demands and allowed them an hour to ask any clarifying questions about them. They chose to only ask a couple questions, using about 5 minutes worth of their allotted hour. Then we gave the collective another hour to discuss in private and expected negotiation to begin after that. We stated very clearly that we did not expect negotiations to finish that day; we just wanted them to move forward in good faith. We stated that we did not expect to get all of our demands; that many of them were flexible, and as long as negotiations went ahead in good faith we would not strike. The managing collective simply refused to negotiate with our union.
3. SC: "The canvassers' overall approach and now "non-negotiable" demands are a direct attack on our consensus decision making process and the way in which Sisters' Camelot functions. Their demands would force Sisters' Camelot to become the kind of hierarchical structure that we have worked against for so long."
THE TRUTH: It is true that we made a package-deal offer in an attempt to end the strike which included only 8 of our original 18 demands, but made them non-negotiable in the package deal. They refused. After receiving criticism for making the package-deal non-negotiable, we sent them a letter, email, and Facebook message asking for a counter-offer. As of yet, we have not received one. Furthermore, our demands would actually make Sisters' Camelot less hierarchical. They include abolishing the role of bosses within the organization, putting hiring and firing power over canvass workers in the hands of a committee composed of canvassers and collective members, decentralizing the role of the canvass director, and placing a rotating union representative on the collective. Lastly, the outcome of negotiation between the canvass union and the collective and how the resulting compromises would affect Sisters' Camelot is pure speculation since management has refused to ever negotiate with the union.
4. SC: "the tactics used by the canvass and the Twin Cities IWW are unacceptable at best and at worst endanger the well-being of not only the organization but also the safety of collective members, volunteers, and supporters. They have posted pictures, names, and phone numbers of collective members and community members they perceive as accomplices in our refusal to be bullied by their collective busting tactics including the cell phone number of someone the canvassers knew was hiding from a past domestic abuser."
THE TRUTH: The tactics used in this campaign have been less aggressive than in typical union drives. Diverse escalation is standard practice for any striking union who wants to pressure the bosses to recognize the worker's right to unionize by negotiating with the union. For instance, when a for-profit corporation refuses to negotiate with their workers' union and fires a union member it is common to phone blast bosses &assisting union-busters, often in the first week of a strike. Out of respect for the personal relationships between some canvassers and collective members, we held off on these standard escalation steps for weeks. In truth, this so-called "aggressive tactic" has been used by supporters of the managing collective against bosses in past campaigns without moral objection. We recognize that this situation is unique because of personal ties that some members of the radical community have with collective members.
Some of us did not agree with making the union-busters website but did not block it out of feelings of desperation from economic violence perpetrated against us by bosses who have refused to recognize our union, forcing us to endure being on strike for a long period of time. Many of us feel the union-busters website was a mistake, and of course many mistakes have been made during this very hard and complicated campaign but that does not mean that we should not have the basic right as workers to organize a union.
Also the claim that we endangered a person who is hiding from a past domestic abuser and we knew it is completely unfair. The collective member they are talking about publicly read the statement firing a union member in front of dozens of people and has been quoted in the press, making herself a public figure in this struggle already. No canvassers were aware that any collective member was hiding from a past domestic abuser and as soon as this situation was mentioned to us, we removed the collective member's telephone number from everything.
5. SC: "The IWW and canvassers have misrepresented the provisions of the National Labor Relations Act (NLRA) to serve their purpose, ignoring those provisions that do not support their apparent goal of fundamentally altering a democratic institution in a completely undemocratic way."
THE TRUTH: Although Sisters' Camelot's collective process was originally created to encourage workplace democracy, 6 people having power over 14 other workers who feel the collective process has failed them is not democracy. The workers decided the collective process failed to give them democratic input, so they unionized. The unionization was meant to increase workplace democracy, but not to affect the collective's control over any aspect of Sisters' Camelot other than the working conditions of the unionized canvassers.
6. SC: "Sisters' Camelot is trying to retain its democratic structure and has therefore decided to legally respond rather than roll over to the canvassers' non-negotiable demands."
THE TRUTH: Our demands are negotiable. The management refuses to negotiate with the union and find out what compromises could be made. As stated above, we asked them for a counter-offer and have not yet received one.
7. SC: "The situation as a whole is one we would prefer not to fight before the NLRB or a court, but the canvassers' choice to pursue this form of categorically inappropriate manner of government intervention has effectively tied our hands."
THE TRUTH: This claim asserts that it is inappropriate to use the NLRB process to protect a worker's rights when they think they have been illegally fired for union activity. The collective fired a union worker while on strike and made it clear in public statements that they will not rehire the worker without government intervention. Many people have died for the few basic workers rights that are protected by the NLRA, and asserting those rights through the process of the NLRB was clearly the fired worker's last choice in self defense. This charge with the NLRB was not filed immediately, but two weeks after the firing. After it was filed, the union made it clear that we did not want to turn this into a protracted legal battle, and that the preferred outcome was for the collective to rehire the union worker so we could retract the Unfair Labor Practice. Even now, the collective could choose to settle out of court.
8. SC: "Contrary to what the canvassers have stated, the NLRB has not decided anything. Rather, an investigator in the NLRB's Minneapolis regional office made an initial determination that Sisters' Camelot may be an employer engaged in interstate commerce. We believe that initial determination is wrong. The investigator does not have the power or authority to speak for the NLRB or to make any legal determinations, that job is left to a judge who reviews all of the evidence and makes a decision. Often the judge concludes the investigator's initial determination is wrong."
THE TRUTH: The NLRB investigator made a decision (or determination) that the job and workplace meet the criteria for the workers to be protected by national labor law, and therefore that the firing of a union member on strike is retaliatory and illegal. The NLRB does not make these decisions lightly and without thorough investigation. The NLRB also does not make these decisions unless they feel a judge will back it up with a court-order, but the NLRB always seeks to find a settlement agreement with the employer. In most cases the employer settles out of court, but when they do not a court order is sought by the NLRB. The NLRB's decisions are rarely overturned. (Also, they contradict themselves: above they claim that "the NLRB has not decided anything," but below they state, "We are contesting the decision of the NLRB's Minneapolis regional office.")
9. SC: "evidence demonstrates that Sisters' Camelot is not an employer and is not engaged in interstate commerce. We are confident that a judge reviewing the evidence in light of the law will agree with us. We are contesting the decision of the NLRB's Minneapolis regional office because we do not feel its decision is consistent with the law or the values of Sisters' Camelot. Settlement no longer makes any legal or financial sense if the organization is going to survive in its current democratic state."
THE TRUTH: Sisters' Camelot and their well-known union-busting lawyer are looking for an obscure legal loophole to argue that the workers are not protected by basic labor law and do not have the right to unionize. If Sisters' Camelot's management actually believes the workers should not be protected by basic labor law and should not have the right to unionize-- what does that mean for the values of Sisters' Camelot and whether or not they actually care about workplace democracy?
10. WHAT SISTERS' CAMELOT IS SCARED TO TALK ABOUT: Sisters' Camelot's managing collective is working with a notorious right wing union-busting lawyer named John C Hauge. This lawyer is working for free (pro-bono).
In the past John C Hauge has:
silenced victims of sexual harassment,
prevented a boss from paying compensation to the family of a worker who died on the job,
decertified unions,
and taken pensions away from union workers.
His website brags about helping employers keep workplaces union-free. This lawyer has his own right-wing agenda and obviously does not care about the values of Sisters' Camelot. The collective is choosing to work with this right-wing lawyer instead of respecting worker's basic right to organize a union.