Trial of Jimmy John's Bosses for Mass Firing of Whistleblower Workers Begins Today: Organizers Vow to Continue Fight for Change at Poverty-Wage Corporate Chains
Submitted on Tue, 02/14/2012 - 7:39pm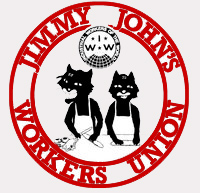 Trial: 9:00am Tuesday, January 14th; National Labor Relations Board Hearing Room, 330 2nd Ave. S. #790, Minneapolis, MN
MINNEAPOLIS- Six Jimmy John's workers fired nearly one year ago for blowing the whistle on company policies which force workers to make sandwiches while sick will get their day in court today. In November, the NLRB ruled that the March 2011 mass firing, as well as an anti-union Facebook group used by the employer, violated federal labor law. Organizers allege that the firing was a calculated attempt by franchise owners Mike and Rob Mulligan to decapitate the first unionization effort in the nation's fast food industry.
Erik Forman, one of the fired workers in the case, said, "Mike and Rob Mulligan and their corporate backers fired us in an attempt to silence our voice for sick days, decent wages, and respect in the fast food industry. They think that by dragging this out through the courts for years, they can stop the inevitable. They are wrong. From Jimmy John's to Greece, the 99% are finding their voice, and when we begin to speak, the 1% of this planet will have no choice but to listen."
In an industry characterized by poverty wages and disrespect for workers despite corporate profits in the billions, the unionization effort at Jimmy John's has inspired millions across the world that change is possible. However, corporate resistance to reform has been stiff, frequently crossing over into illegality.
Jimmy John's workers filed for an union election in September 2010, coming within a hairs-breadth of victory in an 85-87 vote that the NLRB later threw out due to over 30 employer violations of labor rights in the election period.
Forging ahead with the campaign for reform in fast food even without union recognition, workers at Jimmy John's began campaigning for the right to call in sick and paid sick days in January 2010 after a union survey of employees revealed that on average two employees are working while ill every day in the ten-store franchise due to company policies which discipline workers for calling in sick, and the inability of minimum-wage workers to afford to miss a day of work.
Despite the clear risk to public health of having workers make sandwiches while ill, franchise owners Mike and Rob Mulligan stonewalled employee requests for reform of the sick day policy for more than two months, prompting union supporters to take their message to the public by posting 3000 copies of a poster explaining that workers are forced to work while sick at the chain.
Mike and Rob Mulligan lashed out against his employees in retaliation, firing six union organizers and disciplining others for the sick day poster action. He then claimed in writing that, "the company has made more than 6 million sandwiches during its nearly 10 years in business- and no one's ever gotten sick from eating one." This claim was revealed as an outright lie when the union released Department of Public Health reports which showed two outbreaks of foodborne illness at the franchise in the last five years, both due to sick employees.
The Jimmy Johns Workers Union, open to employees at the company nationwide, is affiliated with the Industrial Workers of the World labor union. Gaining prominence in recent years for organizing Starbucks workers, the IWW is a global union founded over a century ago for all working people.