Utica, NY: IWW and Community Groups Mobilize to Halt Deportation
Submitted on Sun, 06/18/2017 - 4:42pm
By anonymous - It's Going Down, June 8, 2017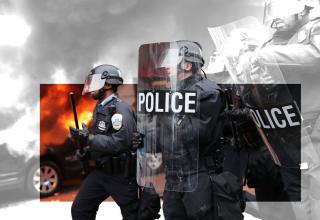 A father, soccer coach, and Utica resident Ricky Morgan was separated from his family on June 5th during a routine check-in with ICE and will now be deported to Jamaica. Family members, community members and local activists are struggling to come to terms with this sudden, grim reality.
Over the last few months, a broad coalition of organizations, including ICE-Free Capital District, the labor union Industrial Workers of the World (IWW), Troy Sanctuary Movement and the Unitarian Universalist Society of Saratoga Springs have come to Ricky's aid and accompanied him for monthly check-ins with ICE. Ricky was inspired by a previous rally activists held for a mother and immigrant from Hudson, NY who was facing deportation. He hoped that similar support from the community would help him in the future. For a while, Ricky was only checking in with ICE once a year until he was told after the election of Trump that he became a priority for deportation and had to check in with ICE monthly.
Ricky moved to the US in the 1990s on a work visa and is still permitted to work in the US. He was targeted in the past by ICE during the Obama administration and was separated from his family by ICE for six months while he was kept in Batavia's ICE Detention Center, one of countless jails in the US that exist to house immigrants. He will now be sent back to Batavia before his deportation.
Joe Paparone, an organizer with ICE-Free Capital District stated: "We need to start telling the truth. Immigration enforcement has nothing to do with criminality, and it's regular people like Ricky – people with families, communities, workplaces, neighbors, that are having their lives torn apart, for no reason other than the racist scapegoating of a pathological liar. Those of us who care about our communities are going to keep fighting this racist deportation regime, and keep standing up for vulnerable members of our communities."
Ricky is the father of three children, and five step-children, all of whom are US citizens, and is also married to a US citizen. He is the primary caregiver for his youngest six-year-old son and is a main pillar of support for another son who has down syndrome and is a leukemia survivor. Ricky has a reputation for being a great cook and a great soccer player and coach. His family is already feeling the financial and social turmoil now that he is being processed for deportation. His step-son Marquis, who is currently studying at Oxford University, is cutting his time abroad short so he can be home to support his siblings and his parents in this time of need.
Marquis sent a message from England, saying that "The state locked away my dad when I was 7. It hurt deeply. I feel like a lot had been snatched from me, because it had. But one thing that had not been taken from me, one thing that I could still hold onto, was a father figure: I had my step dad, Ricky. He helped my mom raise me and 6 other siblings. Together, they kept us healthy and whole. But then the state had taken him too, imprisoning him in an ICE detention center in 2012. We did not know what would happen. Uncertainty and fear loomed over us like a grey cloud which we had to learn to live under. But eventually Ricky was released. He came home and everything felt more complete. Uncertainty still hung in the sky above us, but he was home and that was enough to keep us going. It kept the grey cloud at a distance so the sun could peak through. But alas, our heads hang low and the grey cloud even lower. ICE has detained Ricky again, promising to deport him and keep our family apart. It hurts. It's a struggle. But we're going to stay strong and do what we can to bring Ricky back home."
All across the nation, people are pushing for sanctuary for immigrants by accompanying those who are facing deportation, organizing protests and organizing in communities. Countless undocumented immigrants and other workers and students went on strike on May 1 to show how much this country relies on migrant labor. This growing immigrant justice movement is one that activists, immigrants and their families agree aims to keep families together.
IWW union organizer and family friend Brendan Maslauskas Dunn vowed to continue the struggle to keep Ricky and his family together. "The nightmare Ricky and his family are facing was created by a mass deportation machine that has a primary objective in destroying families and punishing workers. People, like Ricky, leave countries like Jamaica to escape a crushing poverty created by years of American and Western economic exploitation. Ricky, like millions of other undocumented immigrants in this country, tried desperately to become a citizen or get permanent residency, but was shut out of the process. There is no logic in this system and no justice. We will continue to fight like hell to keep this family together."
Local clergy who have been active in the movement for immigrant justice also weighed in on the matter. Rev. Joe Cleveland of the Unitarian Universalist Society of Saratoga Springs commented that "No one is safer, no one is better off, if Ricky is deported and ripped from his family. This deportation regime is an immoral, unjust, racist attack on our values as a society, and I, along with the congregation I serve, will not stand idly by. People of moral conscience should be outraged that this is occurring in their name."
Rev. Gusti Newquist of First United Presbyterian in Troy also lent his support for Ricky and his family: "I am devastated that a family was stripped of its father for no good reason. It is wrong to take parents from their children. It is wrong to target people based on their race and ethnicity. All of our faith traditions value welcoming the stranger, hospitality to foreigners, and compassion for the poor. Our broken immigration system is an affront to those values. People of faith and conscience must challenge that system and work to reform it."
Activists from ICE-Free Capital District, the IWW, the Troy Sanctuary Movement, other activist groups and various faith communities across the state of New York plan to take further action to keep Ricky and his family together.