Wobbly Flyering Squad Hits San Francisco Starbucks
Submitted on Mon, 08/01/2011 - 5:37pm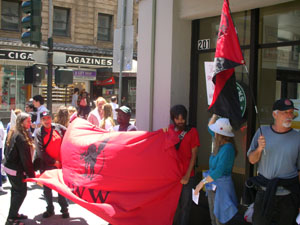 San Francisco--On Friday, July 29th members of the Bay Area Industrial Workers of the World (IWW) introduced San Francisco's financial district to the global action campaign against Starbucks union busting and the inspiring militancy of Starbucks union workers on strike in Chile.
The Wobbly flyering squad spoke to more than 50 downtown Starbucks workers and over 500 hundred customers. Both workers and customers were appalled to learn of the miserable working conditions of baristas in Chile and recent union-busting by Starbucks in New York. They were also shocked, yet excited to know that, in addition to the El Sindicato de Trabajadores de Starbucks en Chile (Starbucks Workers Union in Chile), Starbucks baristas in North America have organized with the IWW, where workers continue to inspire shop floor solidarity and to fight for better working conditions at Starbucks everywhere.
After becoming aware of the recent firing of Starbucks union barista Tiffany White-Thomas and the terrible treatment of Chilean workers, several customers made it clear they would no longer buy coffee from Starbucks. Many customers also said they intend to call Starbucks to tell them that their recent union-busting is unacceptable, and to inform the company that they support the Starbucks workers'?struggle here in the U.S. and abroad.