Guides for IWW Members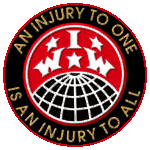 Welcome IWW Members!
You have joined the IWW, and now you want to do more as a member but you're not sure how to go about it. Perhaps you have questions about what to do and are not sure where to begin. If that's so, then this page is for you!
This page contains guides for members on how to build the IWW, how to maximize their impact in their community, and how to make full use of the iww.org website and all of its features.
Creating IWW Infrastructure:
We also offer the following Legal Guide:
And the following Technical Support Guides:
These guides do not cover organizing. For that information, you should visit the Organize Page and contact our Organizing Department to set up an organizer training.
Also, if you have specific questions about your membership, you should contact your Local Branch (if one exists) or our General Headquarters (if a local branch doesn't exist or you have just joined the IWW online).
If you have any additional questions, not related to organizing or your membership not described in any of the links above, please contact us at tech [at] iww.org.