Obituary - Fellow Worker Carlos Cortez (1923-2005)
By Manya A. Brachear - Chicago Tribune, January 23, 2005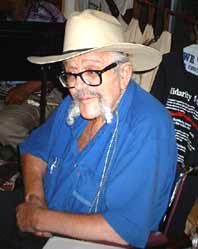 Before Carlos Cortez decided to buy a home, his wife, Mariana, first had to convince him it would be in his best economic interest. He dreaded supporting a capitalist system that he believed cheated the common man out of a living wage.
But buying the home was a decision he would never regret. For the next 30 years, the basement became a studio for Mr. Cortez and his wood- and linoleum-cut graphics, and the living room became a gathering place for strangers who quickly became friends.
There, surrounded by the artist's black and white prints that inspired so many, poets and painters explored how art could incite social change, shed light on poor and disenfranchised populations, celebrate indigenous cultures and promote peace--all principles that inspired Mr. Cortez to create art.
Mr. Cortez, 81, a poet, muralist and graphic artist, whose portrayals of the challenges facing the common man are on display in neighborhood galleries and the Smithsonian Institution, died of heart failure Wednesday, Jan. 19, in his Northwest Side home.
Also emblematic of his principles, Mr. Cortez bequeathed more than 100 wood and linoleum blocks used to produce his prints to Chicago's Mexican Fine Arts Center Museum, stipulating that if the price of his art went up, the blocks should be used to produce more and drive it down.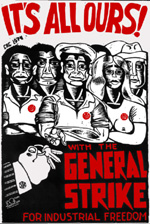 "As an arts advocate, he argued that art is essential to the human experience," said the museum's president, Carlos Tortolero.
The son of a German mother and a Mexican father, Mr. Cortez, who often attached his Nahuatl surname "Koyokuikatl," was born and raised in the Milwaukee area. Imprisoned for 18 months as a conscientious objector during World War II, he joined the Industrial Workers of the World in 1947. He wrote a column and drew cartoons for the union paper, The Industrial Worker, from the early 1950s until recently.
He met his wife in 1957, when she traveled to Milwaukee from Greece to visit her brother. In 1965, Mr. Cortez moved to Chicago. A year later, he traveled to his wife's hometown of Patras, Greece, brought her back and married her. She died in 2001.
In the 1970s, Mr. Cortez joined the Hispanic mural movement, painting walls of city buildings to communicate political messages about the ills afflicting society.
Inspired by the Mexican printmaker Jose Guadalupe Posada, whose woodcuts depicting violence and executions were sold at low cost to the masses, Mr. Cortez broadened his medium to printmaking. After carving images into wood and linoleum blocks, he applied ink, then pressed paper over the ink-covered surface.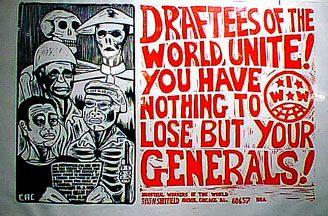 A blue-collar worker and pacifist, Mr. Cortez portrayed military invasions, parents crying over a casket draped with the American flag, and the wrinkled faces of workers worn down by their plight. His artwork always remained on the side, while he made a living working in factories.
"You couldn't separate the manual labor he did from who he was," Tortolero said. "Carlos was always about the real value of things. It was never money. He never supported himself as an artist."
In 1975, Mr. Cortez helped found the first Mexican arts organization in Illinois, Movimiento Artistico Chicano, or MARCH. He also became a fervent supporter of and frequent exhibitor at the Mexican Fine Arts Center Museum. His work also is on display at the New York Museum of Modern Art and in galleries in such countries as Spain and Sweden.
In addition to his papier-mache sculptures, murals, prints and poems, he wrote three poetry books, edited a book on Posada and contributed to a number of others. For almost 20 years, he served as board president of Charles Kerr Publishers, one of the oldest working-class publishing houses in the world.
In 1999, he welcomed a group of organizers into his living room to talk about the upcoming Chicago Labor and Arts Festival and read poetry.
Mr. Cortez had no survivors. Private services have been held.