Stockton Independent Truckers Unite!
[Historical Call to Action - for more information about this shop, visit bayarea.iww.org.]
Independent truckers in the intermodal rail yards of Stockton, California won the majority of their demands in a two-day strike September 13 and 14, 2004 against the Patriot Trucking Company.
The majority of the drivers at Patriot Trucking Company in Stockton have joined the Industrial Workers of the World and won:
Reduced wait time
End discount rates
Extra pay for hazmat loads
Extra pay for switching containers
Extra pay for sweeping containers
Extra pay for delays at the scales
Extra pay for carrying overweight loads
End punishment for refusing a load
Respect from management
The IWW members in Stockton also got two drivers their jobs back after they were blacklisted.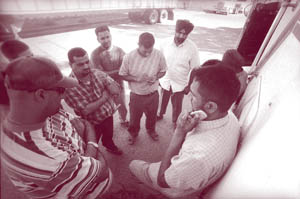 There are roughly 250 intermodal truckers in Stockton, most are immigrants and most have joined the IWW. Organizers and drivers are working on plans for further actions and greater gains.
Although they are currently considered independent contractors and many labor laws did not protect these truckers, that didn't stop them from standing up to win better pay and conditions. The IWW invites all truckers to join, regardless of nationality, legal status, or contractor status.
Join the IWW, stand together with your fellow drivers, and win respect, better pay and better conditions.
---
Latest News:
El Troquero - Newsletter
Background:
News and Discussion: