Aristocracy Forever
Introduction by x344543, February 26, 2012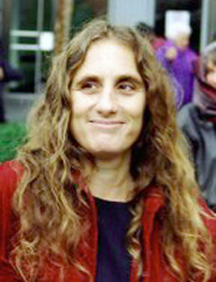 Judi Bari is best known as an environmental activist and a major mover and shaker in the Earth First! movement. She was also, from 1988-94, a dues paying IWW member, and very active in the union. Her major focus was organizing timber workers in northwestern California's Redwood Empire, specifically in Mendocino and Humboldt Counties. Among her activities were helping rank and file mill workers at the Georgia-Pacific lumber mill in Fort Bragg, California win justice after being subjected to toxic PCBs that resulted from a burst capacitor on a waste reclamation wood debris cogeneration machine (known as a "hog") in February 1989.
These were among the only timber workers then still represented by the increasingly ineffectual business unions in the timber industry, specifically IWA Local #3-469 in this case. The union representative, a man named Don Nelson, had once himself been a logger and had even worked with Earth First! early on. However, as time went on, it became increasingly apparent that Nelson was a pro-capitalist collaborator, refusing to honor a UFCW picket line in 1988, and pushing the rank and file to accept concessionary contract with G-P in 1989. When the PCB spill occurred, Nelson went along with G-P in claiming that the PCbs were merely mineral oil.
Judi Bari and Anna Marie Stenberg assisted these workers in their OSHA hearing and helped them win a settlement. Along the way, they fought an unpopular dues increase, proposed by the IWA bureaucrats. The affected mill workers enthusiastically welcomed the support of both the IWW (at least two of them even joined) and Earth First! (provided that the latter renounce tree spiking, which it did in the region).
Bari had been a rank and file union militant in the 1970s in a retail union that later joined the UFCW and the Postal Workers. She fought many rank and file struggles against class collaborationist, business union bureaucrats.
"Aristocracy Forever" was written as an entry in a union sponsored contest to write new lyrics to the old song while Bari was a member of the retail workers union. She said of it, "I don't know why it didn't win the contest."
---
Aristocracy Forever - lyrics by Judi Bari, ca. 1979
Tune: Solidarity Forever / John Brown's Body (aka Battle Hymn of the Republic)
First Published: Little Red Songbook, 36th Edition, 1995
When the union's leaders' payoffs by the bosses have begun
There will be no labor trouble anywhere beneath the sun
For the AFL trade unions and the management are one
The union keeps us down.
Chorus:
Aristocracy forever
Aristocracy forever
Aristocracy forever
The union keeps us down.
It is we who have to suffer through the daily drudgery
While [Lane] Kirkland pulls a hundred thousand dollar salary
Though he claims to lead the workers, he is just a bourgeoisie
The union keeps us down.
(Chorus)
What do workers have in common with a labor bureaucrat
Who's a class collaborationist and a boss's diplomat
With the money from our paychecks he is sitting getting fat
The union keeps us down.
(Chorus)
They've aligned us with the mafia, the CIA and more
Serving counter-revolutions and oppressions of the poor
Till the union doesn't represent our interest anymore
The union keeps us down.
(Chorus)
In our hands we hold a power they don't even know about
They've forgotten that the workers are the union's source of clout
When the rank and file workers kick the union bosses out
Again we will be strong.
Last Chorus
Solidarity Forever
Solidarity Forever
Solidarity Forever
Again we will be strong.
Note: this page opened up in a separate browser window so that the reader can compare the lyrics of Aristocracy Forever to Solidarity Forever if desired.