Millions strike, march in massive May Day protests
Submitted on Tue, 06/06/2006 - 1:05pm
By Adam W. - Industrial Worker, June 2006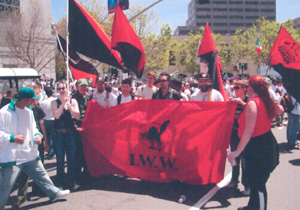 From California to the northeastern seaboard and the deep south, May 1st was marked by massive demonstrations. People poured into the streets of over 200 U.S. cities in support of immigrant workers' rights as part of the "Grand Paro Americano de 2006," or the Great American Boycott of 2006. With between two and three million participating, it was largest single day of protest ever in the United States.

But the day was far more than a movement of mass demonstrations, as nation-wide restaurants were shuttered, meat processing plants were idled, ripe fruit laid waiting to be picked and the nation's largest port stood at a near standstill. Classrooms were empty in some cities as well, as students, often joined by teachers and staff, skipped school in support. Many of those participating in the "Day Without An Immigrant," both documented and undocumented immigrants along with their supporters, heeded the call by some groups to not work, buy goods or attend school. The tactic is a traditional one called paros civicos, borrowed from social movements in Mexico.

"People will look back at May Day 2006 as a historic moment," says John Baranski, an IWW member and professor of American history at Fort Lewis College in Colorado. He draws connections between today and the 1886 strike for the eight hour day. "Both were mass worker mobilizations, led largely by immigrants."

Although it is impossible to peg the exact number of those who joined the work stoppages, as participation rates varied by region, neighborhood and industry, the sectors most affected were agriculture, food service, food processing and construction. They also tended to be in workplaces with high concentrations of Latino immigrants. While many stayed away from work, others were confused by mixed messages as many unions and larger advocacy non-profits opposed the calls for boycotts and strikes.

New York IWW organizer Bert Picard, who organizes among immigrant warehouse workers and is involved with the community center Make The Road by Walking, says standard pay for immigrant workers there is $300 for 65 hours a week. "There is no effective minimum wage in New York for immigrant workers and the Labor Department is doing nothing." But he has noticed a change. Referring to the workforce of immigrant Latinos in Bushwick, New York, who Make the Road By Walking organizes, Picard says: "Before all these marches we used to say we were a union of fired workers. Only after folks lost their job would they be willing to fight over unpaid wages. But within the last year, whole shops have come to us with their issues saying they want to fight, they want to organize. We hadn't seen this before."

As part of the larger movement, IWW branches and members in nearly a dozen cities participated by joining the demonstrations often in contingents or marching in coalition with other groups. Wobblies also organized support for workers retaliated against for participating in demonstrations and mobilized their co-workers to strike, call in sick or take the day off in numerous workplaces. The IWW General Executive Board approved a resolution encouraging all members to participate in the called-for strike and protest as their circumstances allowed.

Chicago

Joining the 750,000-strong demonstration on May Day was a contingent of IWW members with banners and thousands of business cards promoting the Workers National Defense Committee. The group is a loose collaborative of organizations across the country supporting workers who were fired or retaliated against for participating in the May 1st and previous immigrant rights demonstrations. Over a month ago the Chicago GMB formed a committee of members who trained themselves in providing support for workers involved in the May 1st movement, later discovering and joining the Workers National Defense Committee which was already working on the issue.

"This is a real struggle for workers. Here in Chicago, we're working with factory workers in the area, assisting them with unemployment and pressuring the companies to rehire them," says Matt Zito, who is chairing the committee of IWW members working around the issue. A machine shop worker who attended the demonstrations and met IWW members who supported him around a severe hand injury he recently received on the job has joined the branch.

According to Zito, the Workers National Defense Committee is supporting an unprecedented class action Unfair Labor Practice charge brought by the Change to Win union grouping on behalf of all workers fired for participating in the recent immigration marches. The San Francisco Chronicle reported on May 2 that some trade associations and union busting law firms even advised their members and clients not to fire their workers as it could be covered as concerted activity under the National Labor Relations Act.

San Francisco Bay Area

In the Bay Area two large marches were held, along with smaller rallies in surrounding cities -- a day of action and march of about 100,000 in San Francisco and an afternoon march of over 150,000 in San Jose. About 45 Wobblies and supporters marched as a contingent in San Francisco carrying the red and black flags and a large IWW banner.

A number of members took part in strikes, including the majority of the Spanish-speaking Wobblies at the Community Conservation Centers Inc., commonly known as Berkeley Buy-Back recycling, which is a shop under an IWW contract. While most attended the nearby Richmond protests, one recycler, who had never attended a demonstration before the recent immigration protests, joined the San Francisco contingent. He noted that many of the African-American workers supported the effort. "No questions asked, that's how it was going down," he said of the African American workers. "They're taking their day on Malcolm X Day too." The next day everyone in the yard was talking about how big the rallies were, he said.

Also leading a workplace action was Tristan Bunner, working at the Foothill Dining cafeteria on the UC Berkeley campus. He organized his shift of 5 workers, saying, "I talked with my Fellow Workers at work, they were supportive and so we worked out that we would all call in sick for the day."

Bay Area members, such as Samantha Levens, are also working as part of the Workers National Defense Committee around a case of eight fired Chevy's restaurant workers in Stockton, Calif. "We are working to target the franchise owner," who owns several restaurants, Levens says.

New York

"It was a whole day of struggle," says New York IWW member Bert Picard. Members started at 5:30 in the morning to picket in front of Amersino warehouse workers who faced a lockout after threatening to strike in response to the suspension of worker leaders. Later in the morning members took buses with other groups to Chinatown, where they met up with Chinese, Polish, Latino and other immigrant workers groups in a feeder march to the larger Union Square rally. The feeder march was organized by the Break the Chains coalition, which included the Chinese Staff and Workers Association and the National Mobilization Against Sweatshops among others, whose message was "Equal Rights for All Workers.

The New York IWW was part of the pre-existing May Day Coalition made up of Make the Road by Walking, Million Worker March and United Electrical union. But leading into May 1st, the coalition expanded rapidly and formed networks with numerous other worker centers and working class immigrant rights and church-based groups. "It was definitely a catalyst for our organizing efforts," said IWW Starbucks organizer Sarah Bender. "People were holding their heads high."

Portland, Oregon

In Portland, May Day demonstrations were part of an ongoing tradition that the IWW branch, along with leftist groups and rank-and-file members of business unions, participated in. This year immigrant groups merged together with this coalition for the largest march ever of 10,000 mostly immigrant families.

IWW members focused on outreach to service workers in the downtown area and at bus stops with a flyer asking workers to see the common cause between native-born and immigrant workers on May 1st. They held a contingent within the march and hosted their usual social event afterwards at the Portland IWW Hall.

Philadelphia

In Philadelphia members of the IWW's South Street Workers Union participated in a May 1st rally and community meeting in support of immigrant rights. Spanish-speaking members, who are part of a larger network of immigrant organizations across Southeastern Pennsylvania, had also previously organized work stoppages and larger rallies on April 10 and February 14, Valentine's Day.

Boston

In Boston members of the local branch organized small contingents within multiple neighborhood feeder marches that met up at a larger rally at the Boston Common. They were joined by several workers in the grocery stores that members are organizing in.

"When I stopped by work to pick up a co-worker [for the demonstration], there were only five out of 20 people there," says Boston IWW member Mike Bell who described how the May 1st march suddenly opened up many conversations between co-workers who didn't talk before at the workplace.

Los Angeles

In Los Angeles two separate marches merged together with over 500,000 participants crowding the downtown area. At the LA harbor IWW members were part of a loose coalition that worked to support an independent truckers' strike. Port traffic was brought to a halt with about 90 percent of the mostly Latino truckers honoring the strike call.

IWW members also joined demonstrations in Arcata, Calif., Denver, Madison, Minneapolis-St. Paul, Pensacola, Fl., Pittsburgh, Santa Barbara, Calif., Tampa and many other cities. Internationally, the IWW participated in May Day actions across Canada and in Australia, England, Germany and Mexico.