Theater Staff Rallies For Public Support - Landmark Employees Demonstrate Amid Efforts to Unionize, Renegotiate Contract
Submitted on Mon, 03/19/2007 - 11:39pm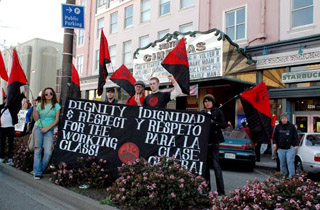 Article by Vincent Quan; Photo by Alex Chan, Daily Californian, Monday, March 19, 2007.
Singing songs of solidarity and workers' rights, more than 80 Shattuck Cinemas employees, union members and residents rallied Friday evening to draw community support for the employees as they attempt to unionize and renegotiate their contract with Landmark Theatres.
The rally, which took place outside the Shattuck Cinemas in Downtown Berkeley, marks workers' latest attempt to promote their eight-month effort to gain an expanded health care plan, seniority privileges and excused sick days.
The Berkeley City Council voted to support the workers in February.
"We want the employees to get livable wages and benefits," said Councilmember Dona Spring, whose district includes the theater. "(The company) does not need to treat its employees so shabbily, like they are third world workers."
Bruce Valde, a union organizer who is working with the theater employees, said the purpose of the demonstration was not to hurt business, but instead to draw recognition to their efforts.
"This is a proactive move for us to continue to organize the community in support of what we are doing," Valde said. "I do not consider this a protest. This is a community support rally."
Read the entire article - here