IWW Helps Open Trucker Education & Organizing Center
Submitted on Fri, 04/27/2007 - 11:47am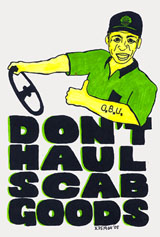 Contact: Billy Randel Industrial Workers of the World NYC General Membership Branch phone: (646) 645-6284 email: [email protected]
With help from the IWW, New Jersey truckers open first driver education and organizing center in nation.
Elizabeth, NJ, April 27, 2007 - Truck drivers from Ports Elizabeth and Newark, in conjunction with the Industrial Workers of the World union,are set to open a new drivers' education and organizing center in Elizabeth on May 1, 2007, the first of its kind in the nation.
The center is being organized to fight for and enforce the rights of rail and port truckers, and is being named in commemoration of Teamster organizer José Gilberto Soto. Soto was assassinated in El Salvador while organizing port truckers there in 2004.
Founders of the center say their goal is to educate and mobilize truckers around issues that affect their workplace and their community, including port security and environmental concerns about diesel pollution. Specifically, the center intends to apply for grants to convert trucks to run on biodiesel fuel, as well as looking into other sustainable, green alternatives. The Elizabeth drivers' center will be represented by labor and environmental attorney David Tykulsker of Montclair, NJ.
The center will hold an open house from 10 am to 1 pm on Tuesday, May 1, 2007, with a press conference there at 12 noon. The center is located at 368 Springfield Road in Elizabeth, NJ.
Financial and organizational support for the center is being provided by the IWW, IU 460/640, a rank and file, membership-run organization.