Union for Starbucks Workers Expands to Grand Rapids Michigan
Submitted on Sat, 05/19/2007 - 11:18pm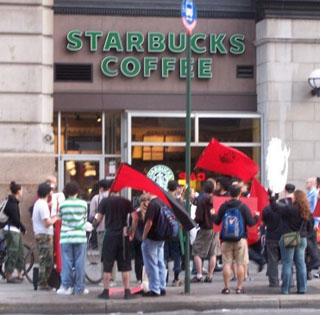 Contact:
Grand Rapids: Cole Dorsey, Barista and Union Member - 616-881-5263
Chicago: Joe Tessone, Barista and Union Member - 815-545-5273
New York: Daniel Gross, Organizer IWW Starbucks Workers Union - 917-577-1110

Grand Rapids, MI 5/17/07- Baristas at Wealthy St. Starbucks in East Grand Rapids announced last night their membership in the IWW Starbucks Workers Union ( http://www.starbucksunion.org ), becoming the first store in Michigan to declare union membership at the world's largest coffee chain.

Workers served Starbucks management at the café, located on 2172 Wealthy St. SE, with a declaration of union membership and a set of demands including a living wage, guaranteed work hours, reinstatement of IWW baristas fired for organizing activity, and respect for an independent voice on the job through union membership.

"For a company as profitable as Starbucks my fellow baristas and I should be better compensated for our work," said Cole Dorsey, an IWW barista at the Wealthy St. store. "We hope to build off the achievements already won by the IWW Starbucks Workers Union in New York and Chicago and improve our working conditions here in Grand Rapids."

After management got wind of the 'union talk' at Starbucks cafes in Grand Rapids all baristas citywide were forced to sign Starbucks corporate statement on unions.

One victory already won at the Wealthy St. store is more consistent scheduling, which came about directly after workers began discussing the union.

In stark contrast to its employee-friendly image, Starbucks workers in Grand Rapids and around the world face low wages and barriers to health care and other benefits. After years of promoting itself as a leader in employee health care, Starbucks was forced to admit that only 42% of its employees (including management) are covered by company health care- that figure is lower than Wal-Mart's 47%, a company often condemned for its poor health care package.

In Grand Rapids, baristas start at only $7.25 per hour and, like all café workers at the company,are not guaranteed any number of work hours per week. Employees who expect to work full-time are often not given the necessary number of hours to qualify for health care benefits.

Founded in 2004, the IWW Starbucks Workers Union has won three wage increases, more consistent scheduling, and safety improvements at Starbucks stores across the country. The union uses direct pressure against the company on the job and in the community to win demands and remedy member grievances with management. The union's organizing approach is known as solidarity unionism whereby workers themselves control their own organization; power is exerted without interference from the government or union bureaucrats; and organizing takes place regardless of certification status. Like many labor organizations, the IWW Starbucks Workers Union does not get involved in government certification elections because of the fatal flaws in that system. Starbucks does not recognize the union and is waging a relentless campaign to crush the organization, which resulted in a large complaint leveled against the company by the National Labor Relations Board. The government settlement agreement of those charges is available on the web at

http://www.starbucksunion.org/node/712.