Starbucks Settles Charges with NLRB over Anti-Union Activities in Grand Rapids
Submitted on Wed, 10/03/2007 - 3:52am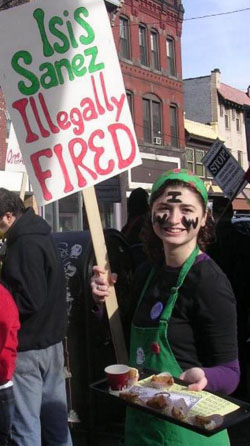 Originally published at Media Mouse
On Friday, the Starbucks Workers Union--a union affiliated with the Industrial Workers of the World (IWW) and formed in response to Starbucks' mistreatment of its baristas--held a press conference outside of Starbucks' Wealthy Street store in East Grand Rapids to respond to charges filed by the National Labor Relations Board (NLRB) against the company. The charges included allegations that store employees were denied access to a store bulletin board that was previously open after an employee posted union materials, that a store manager threatened employees with "discharge and unspecified reprisals" if they engaged in union activities, and that they failed to change employee handbooks to indicate that employees could wear union buttons and have union literature based on a 2006 settlement in New York City.
The Union originally expected to know whether or not Starbucks would settle the charges or fight them before the 3:00pm press conference. However, Starbucks got word of the planned press conference and delayed its announcement until 4:00pm. Starbucks chose to settle the charges and will be required to post a notice in all of its "District 7" stores--including Michigan and portions of Ohio--admitting to wrongdoing.

A video of the press conference is available: (here)

Starbucks is currently involved in a legal fight with the NLRB in New York City where it is facing 30 charges of unfair labor practices. The Grand Rapids branch of the Starbucks Workers Union announced its formation and intent to file charges with the NLRB this year on the third anniversary of the founding of the national union.