October 22 Pittsburgh - Police Accountability Petition Launched
Submitted on Sat, 10/27/2007 - 6:34am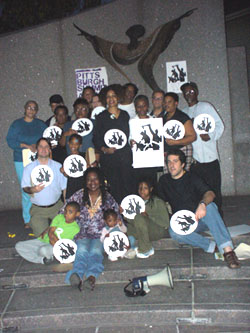 CAPTION October 22 organizers gathered at Freedom Corner and launched a new petition demanding police accountability and justice for Jerry Jackson. Download the petition HERE. The petitions will be gathered and a plan to deliver them with maximum impact will be made at the 10th Annual Summit Against Racism, the Saturday after Martin Luther King Day at East Liberty Presbyterian Church.
Group protests police brutality
Memorial plaques placed at the center of Freedom Corner bear the names of Charles Dixon, Manea Stoney, Craig Guest and Todd Allen Norris. They are some of the young people killed at the hands of the Pittsburgh Police.
A group of community activists gathered Monday and joined hands to form a circle around the plaques to honor the lives they said were stolen.
"Police brutality has always existed in poor and oppressed neighborhoods. And it's fitting that we are here at Freedom Corner because of the fight for civil rights and the struggle continues," said Celeste Taylor, vice president chair of B-PEP,
Monday, Oct. 22 was chosen as the National Day of Protest against police brutality in honor of 23-year-old Sean Bell, who was slain one year ago Monday in a hail of 50 bullets by New York City police officers.
San Diego, Cleveland and Chicago also held anti-police brutality rallies on Monday.
Taylor said the mission was to get Hill District residents to sign a petition asking city officials to hold police administrators accountable and adopt "zero tolerance" policies for domestic violence by police.
The petition also asked for the re-opening of the Jerry Jackson case and for charges to be brought against the officers responsible for his death.
After reading aloud the names of those slain by the police a group of 17 headed to the heart of the Hill District equipped with signs, hand-clappers and a megaphone to spread the word.
"We decided not to march Downtown this morning; we are going to go into our community with our petition, with our spirit and with our voices, so that they understand what this struggle is about," said Taylor.
Pamela Lawton, whose 7-year-old daughter Joshalyn suffered trauma after having a gun pointed at her by a Pittsburgh police officer, was on hand to show support for the fight against abuse of power by police.
"We need to let them know its time for a change, and we can do it peacefully," said Lawton.
http://newpittsburghcourieronline.com/articlelive/articles/39094/1/Group-protests-police-brutality/Page1.html