Taming Wild Edibles
Submitted on Wed, 02/06/2008 - 3:42pm
by Diane Krauthamer - February 3, 2008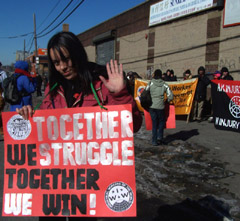 Wouldn't it be a real travesty to spend $50 on a wonderful lobster dinner at New York City's highest rated restaurant, only to find out after your meal that the food was rotten?
Behind the scenes at New York City's #1 rated restaurant
Of course, fine dining establishments must comply with health and safety standards in their kitchens. Of course, establishments ranked as NYC's most popular wouldn't dare serve rotten seafood. But there may not be any rotten seafood at all—this is only on the surface. Something happens well before the seafood even reaches the kitchen and it will make you even sicker.
It's actually the company which supplies seafood to some of the city's favorite restaurants that's rotten; that systematically treats its workers rotten—they're called Wild Edibles.
Wild Edibles supplies seafood to a range of locations throughout New York, including some of the highest-rated spots in Zagat's guide, including a chain of restaurants operated by -famous NYC restauranteur Danny Meyers. With such high-profile customers, it wouldn't seem that company CEO Richard Martin needs to cut costs, but in light of illegal labor practices he may need to start worrying about losing business.
The last step in the NYC food chain
Beginning shifts at 2 in the morning and continuing with physically demanding delivery and factory work into the early afternoon, workers at the Queens-based seafood company usually work more than 8 hours per day with few breaks and inadequate pay. While the conditions in themselves are hardly tolerable, continued discrimination and harassment have resulted in some people quitting and others getting fired.
Former employee Augustin Meza says that in his five years at the company, he witnessed and experienced consistent racial discrimination and eventually quit out of frustration. Meza said that Latino workers were denied rights and privileges that were granted to their white co-workers. Meza saw evidence of this in comparing timecards. He said that while Caucasian workers never worked more than 8 hours per day, Latino workers would work 10 or more hours without receiving overtime pay. Additionally, Latinos were generally made to work "half-time" on holidays because it would make the next day's work "easier for everyone else."
Latinos also faced higher scrutiny. They were made to pay for soft drinks when white workers received them for free, and management constantly watched them like hawks.
"(Martin) was always telling us 'you have to do something' and making us work. But when white people were outside smoking and laughing with each other, he didn't say anything," Meza said.
After years of working under these conditions, Meza made three attempts to speak directly with owner Richard Martin about his concerns, but was simply ignored.
Of course, Meza is not the only person who has had to deal with wretched conditions at Wild Edibles. His co-workers dealt with similar exploitative conditions, and after years of tolerating discriminatory practices, they united together and stood up to the bosses.
Organizing and union-busting
In mid-July 2007, New York City Industrial Workers of the World (IWW) organizers reached out to Wild Edibles truck drivers and warehouse workers to build organizing efforts. Within a little more than a month, workers were actively organizing with the union to demand an end to exploitative conditions.
One worker who immediately took on a leadership role in organizing, Raymundo Lara Molina, was fired after a month because of his involvement. According to IWW organizer Billy Randal, workers at the plant "felt someone had identified him as an active union supporter."
Following this, workers became increasingly concerned about being targeted and picked out, but this did not hamper their efforts.
On August 20 at 2 AM, IWW supporters and members joined Wild Edibles workers and marched on the plant--demanding that Martin pay overtime, reinstate Molina, and cease further retaliation against Wild Edibles employees for union involvement.
During the action, Martin retaliated on the spot by firing another organizer, Jason Borges. According to public testimony, Martin called Borges into his office, asked him what he wanted, and when Borges replied that he wanted to be paid overtime and receive benefits, Martin refused and promptly fired him, yelling at Borges to "get the f--- out" as Borges left the premises.
On August 24, Raul Molina was also fired in retaliation. In the weeks following, Julio Cesar Moreno Gonzalez and Marco Antonio Corona were forced to leave due to the high pressure that they faced.
Taming Wild Edibles
In response to illegal discrimination, sixteen current and former Wild Edibles employees filed a Federal class action lawsuit against the company on September 17. According to the complaint, Wild Edibles violated New York Labor Law and the Fair Labor Standards Act (FLSA) by not compensating workers 1 ½ times the base wage for working more than 40 hours per week, and by discriminating and retaliating for protected activity.
Additionally, a temporary injunction was filed in order to protect workers from further intimidation and retaliation. Despite this order, two more workers, Jose Fernandez and Limo Martinez, were fired in late September.
As litigation continues, the six fired workers and their supporters continue to draw attention to the company's illegal practices through the courts and beyond.
Just after the suit was filed in court, current and fired Wild Edibles workers, members of the IWW and supporters from the newly-formed workers' rights organization Brandworkers International, held a press conference in front of one of Wild Edibles' largest customer restaurants, an upscale French restaurant in the West Village called Pastis. In addition to announcing the lawsuit, workers alerted customers that Pastis was serving seafood processed under shameful conditions.
With the spotlight shined on Wild Edibles' unfair employment practices, Pastis owner Keith McNally agreed on October 4 to stop doing business with Wild Edibles. McNally's other fine dining restaurants—Balthazar, Schiller's, Morandi, Pravda, and Lucky Strike—have also discontinued business with the seafood company until the dispute is resolved. All in all, this created a significant dent in Wild Edibles' business, causing them to lose approximately 10% of their revenue, or $1 million per year, according to court papers.
Meanwhile, current Wild Edibles workers are re-building union presence in the shop, with a "very strong sense of solidarity," said Billy Randal. Because of the increased pressure from the IWW and Brandworkers International, demands are slowly being met as the campaign strengthens.
As litigation continues, workers are fighting together across the food supply chain in the hopes that current employees will live and work in humane conditions, that former employees will receive the compensation that is owed to them, and that justice, not rotten seafood, will be served.
(Stephanie Basile, Jonathan Harvey, Daniel Gross and Billy Randal contributed to this article)
http://www.wobblycity.org/current/news_letter.cgi