Wobblies launch new branch in Montana
Submitted on Mon, 03/03/2008 - 1:30pm
Disclaimer - The opinions of the author do not necessarily match those of the IWW. This article is reposted in accordance to Fair Use guidelines.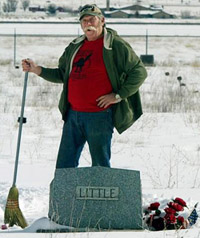 By John Grant Emeigh - Montana Standard, March 2, 2008

BUTTE - With an old, worn broom, Dennis Georg swept off nearly a foot of February snow that had accumulated on the grave of Frank Little.

It was just a small favor from one Wobbly to another Wobbly: Solidarity to the end.

Georg, as was Little, is a card-carrying member of a small but controversial union known as the Industrial Workers of the World (IWW). It was started in Chicago by a group of socialists and anarchists who wanted to unite all the workers of the world. They were reviled by many as subversives and Communists.

"It was once very dangerous to carry an IWW card," Georg said recently while in Butte.
The evidence of that danger was at Georg's feet in Little's final resting place at Mountain View Cemetery. Little came to Butte in 1917 to recruit miners to join the IWW. For his efforts, Little was kidnapped by masked men, beaten, dragged out of town and hung by the neck from a railroad trestle.

Little's grave is somewhat sacred ground for Wobblies. This is why the grave is one of the stops over the weekend for a gathering being held in Butte to celebrate the recent formation of an IWW chapter in Missoula.

"They want to come here because of all the labor history in Butte," he said.

Georg, 60, works as an electrician and has been a Wobbly for 17 years.

Kevin Curtis, 37, of Butte, who works in TV production and freelance movie filming, is one of six members of the IWW in Butte. He said the IWW requires at least 15 members in one city before headquarters will allow a local chapter. Curtis estimates that there are about 2,300 Wobblies worldwide.

He said membership tends to fluctuate. "The IWW's numbers seem to go up when the middle class is under attack," Curtis said.

Curtis and Georg say they would like to get enough local workers to join the IWW, so Butte can have its own chapter like Missoula. Curtis believes workers in a blue-collar town like Butte would benefit from the IWW's support.

"Like our motto says, 'An injury to one is an injury to all,' and we want to give workers a voice in the workplace," he said.

The IWW always has been known for its hard-line stand on worker solidarity. Members believe that all laborers should be united and that the real power should be in the hands of the worker.

Georg was wearing an IWW T-shirt that stated the union's uncompromising stance in plain English: "The working class and the employing class have nothing in common."

The early Butte Wobblies used to be the victims of violence in the early days of the movement, according to Georg. He said they had to be secretive about getting a copy of the IWW's newspaper, the Industrial Worker.

Georg said the carriers would keep a copy of the IWW newspaper folded in a copy of the Butte Miner.

"If a guy wanted the Industrial Worker, he would tell the paperboy, 'Paper, paper,' and he knew he wanted a copy of the Industrial Worker," Georg said.

Georg and Curtis still hand out fliers and try to interest people in joining the IWW. They say they are glad Missoula was able to organize a local chapter.

However, they would like to see the IWW allow them to form a regional chapter in Western Montana. Curtis said that because Montana isn't as populated as other states it is difficult to set up a local IWW charter.

"Montana is so sparse it (a statewide chapter) would be better for us," he said.