Register Now for the 2008 IWW Organizing Summit
Submitted on Tue, 03/25/2008 - 3:12pm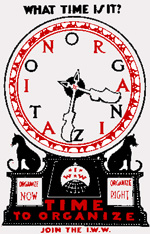 Announcing the 2008 IWW Organizing Summit - Toronto, Ontario - April 18, 19, & 20
Registration is On Now!
The second IWW Organizing Summit has arrived and is set to explode! As the IWW engages in more and more workplace battles, our vision for the future must keep pace with our daily struggles. Our resolve is deeper and our wits keener than ever.
Make sure your branch sends a strong delegation and make sure you're on it! The 2008 Organizing Summit is on the scene and features practical trainings and discussions to build our skills; strategic sessions and industry break-outs to enhance our analysis and plot out the struggle; and visionary all-Summit conversations to prepare us for the future.
Don't miss:
Sustaining your Solidarity Union;
Militancy in contracted shops;
Race, gender, and sexuality in organizing;
Success and failure in recent IWW campaigns;
Industrial organizing beyond the GMB;
Targeting producer market businesses; and
The IWW's future in the present.
Break-outs by industry to feature groups of
Food Workers (iu460),
Retail Workers (iu660),
Education Workers (iu620),
Health Care and Social Service Workers (iu610),
Transportation Workers (dept 500),
Construction Workers (dept 300), and more!
Hosted by one of the IWW's most dynamic branches, the Toronto IWW anticipates a blow out 2008 Organzing Summit with IWWs from all overthe continent and farther afield.
Download a registration form
For more details contact - iwwtoronto [at] gmail.com