A Heavy Load - The ports say they have a plan for cleaner, safer trucks. But do they have a plan for the truckers?
Submitted on Thu, 06/12/2008 - 2:48pm
Disclaimer - The opinions of the author do not necessarily match those of the IWW. The image pictured to the right did not appear in the original article, we have added it here to provide a visual perspective. This article is reposted in accordance to Fair Use guidelines.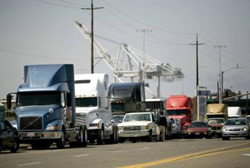 Before sunrise on a Monday morning, outside a sterile office park in Compton, a convoy of small, beat-up cars, none of them newer than 1995, arrives at the offices of the trucking firm Calko Speedline. One by one, the car's drivers emerge, ranchera and mariachi and est?s escuchando a Piol?n por la ma?ana! competing from their radios. They buy coffee from the taco truck that follows them in, and assemble in small groups, huddled in circles among their big rigs - hulking red, green, blue and white mammoths lined up along the curb, their diesel-burning engines grumbling into action one by one.
The drivers' day of waiting begins.
"My name's Chicho. Everybody knows me. You can ask anyone, 'Do you know Chicho?' and he'll say yes."
Chicho, born Hernan Robleto, is short, round, nearly bald and, when he speaks, energetically animated. His English is nearly indistinguishable from his Spanish; sometimes, while listening to him, it's possible to lose any conscious sense of which language he's speaking. At the Calko office, he paces among the various groups while office personnel inside quietly field calls from terminal operators at the ports of Los Angeles and Long Beach about ship traffic and schedules; later, they'll give each of the men directions to their first load of the day, a container of goods destined for an intermediate shipping facility somewhere inland or farther down the coast, where it will be transported still farther, to distribution centers all over the country, by truck or train.
"I am from Nicaragua," Chicho tells me, with a sideways look and suspense in his voice. "I came here 25 years ago. It was a revolution; they were killing everybody. If you could leave, you did." He said goodbye to his family and began the thousand-mile journey over two borders to the U.S., where he went to the ports and looked for a job.
"I went into one company and said, 'I want to be a truck driver,' and they say, 'Okay, let's go get you a truck.'" He jumps back and forth as he tells the story, acting out both sides of the conversation, turning one way and then the other as he switches characters. "They take me to the place where you can buy a truck, and we pick one out. I have no credit - no trucker has credit, and the ones that do have bad credit - but they sign for me, and I have a truck."
It still works this way. Trucking companies act as co-signers on lending agreements so long as the trucker works exclusively for that company and carries its logo on the truck's driver's-side door. Truckers cannot enter the port without a specific pickup assignment from the dispatcher at the trucking company that "leases" their truck.
"But still they say we are independent workers. I don't understand this. How can we be independent if we can only do what one company tells us to do?"
While Chicho talks, his friend Honorio Rivera takes out a sponge mop and goes to work on his 2004 Freightliner as the sun comes over the horizon. He washes the windshield, the hood, the doors, then lifts the hood and wipes down the insides of the engine with a rag. The white metal gleams in the day's new pinkish light.
"It was an expensive truck," Rivera says. "I have to take care of it. It cost me $69,000."
If port truckers like Chicho and Rivera are lucky, they can squeeze in two or three loads a day, at anywhere from $70 to $180 each, depending on the shipper and the route (trucking lines such as Calko pay drivers per load, a sum first determined by the shipper; 70 percent goes to the trucker). At most, a driver earns about $300 a day, including the fee for returning the empty container. Working 50 weeks a year, he can gross close to $80,000. But since drivers work as independent contractors - or "independent owner-operators" according to industry euphemism - they pay their own fees, taxes, insurance and fuel. These expenses, combined with monthly payments on that $69,000 truck, easily whittle a trucker's salary down to around $30,000.
Which means that Chicho, after 25 years of hard work as an independent contractor without health care or retirement, has never been able to buy a house. He can't even rent one in Los Angeles. Instead, he lives in a $700-a-month two-bedroom apartment 180 miles away in Morongo Valley with his wife and two children, 5 and 14. He has never taken a vacation, he has never seen a doctor.
"I am tired," says Chicho, who says he is 50, but looks a decade older. "I am at the point in my life where I want to be taken care of. I am also at a point in my life where I wonder who will take care of my wife if I die."
Now Chicho and his fellow truckers have a new set of worries. With the nation's attention fixed on the ports - just last week Homeland Security Secretary Michael Chertoff came to Los Angeles to announce new security procedures for the ports, including screening all containers for nuclear materials - the drivers' lives will no doubt become more complicated, with longer waits and more bureaucracy than they already claw through today. In the name of security, air quality and global trade, the ports are due for an epic shift: Checkpoints will be put into place, technology upgraded, and new machines put on the roads at considerable expense and effort, all to move huge crates of goods off foreign ships to big-box stores. But no one has bothered to ask the men who do the most to move those goods - the truckers - whether the changes make any sense to them.
Sixteen thousand truckers serve the state's ports, 10,500 at the local ports of Los Angeles and Long Beach, though that number is by no means scientific and shifts depending on the source. What is known, however, is that most of the ports' trucks are more than a decade old, even though many truckers, including Chicho and Rivera, bought their trucks through a Port of Los Angeles program called Gateway Cities, created to help replace drivers' pre-1992 vehicles with newer, cleaner models. The port fleet is still considered the oldest and dirtiest-burning in the state.
"This is where trucks come to die," says the Los Angeles port spokesperson, Arley Baker.
At the ports of Los Angeles and Long Beach alone, diesel trucks belch out 47 tons of smog-forming nitrogen oxide and 1.4 tons of particulate matter each day - more commonly known as soot - around 12 percent of the daily soot and smog load at the ports, which the California Air Resources Boardand the South Coast Air Quality Management District agree aggravates more than 10,000 cases of asthma and kills, statewide, approximately 2,400 people per year.
You can observe container trucks stacking up in the mornings and afternoons in the far-right lanes of the 710, 91 and 110 freeways, making their too-fast, sooty and dangerous way out of the ports hauling 40-by-20-foot metal boxes full of everything from Converse tennis shoes to Patagonia jackets to Chaco sandals to Coleman tents - just about everything that seems U.S.-made but really isn't. Caltrans says heavy-duty trucks were involved in more than 6,000 L.A. County traffic accidents in 2005; 62 of them, according to the National Highway Safety Traffic Administration, were fatal, accounting for close to 9 percent of the 750 deadly accidents in the region that year. Last year, for example, a container slipped off its chassis and toppled over the 91 freeway overpass onto another truck on the freeway below. Observers concluded that the crushed driver had been killed instantly by the appearance of his arm dangling out of the window.
But the pathetic brutality of port trucking often goes unnoticed amid the glory of the ports, where international commerce converges and then trickles across the map of North America like little rivulets of blood, a network of arteries and capillaries feeding the country's big-box retailers its cheap, high-demand goods. The containers bear the names of those thriving international companies that transport goods on massive ships from Asia to the ports of the U.S. West Coast: South China Shipping, Evergreen, Hanjin, Maersk. All but a handful of the people at the wheel, however, made their way here from Central America over the last quarter-century, some literally crawling over the border as they fled civil wars inflamed, in many cases, by official U.S. policy.
Like a lot of drivers, Chicho resents that his income has declined while the port economy has boomed, multiplying several times over the last decade. He understands that official government and port policy has consistently favored the big shipping companies over the small owner-operators when it comes to raising money for port and highway infrastructure - business at the combined ports has gone from $100 billion to at least $256 billion per year since the U.S. relaxed trade barriers with China in the late 1990s.
"If they need money for the roads, they give the bill to the truckers. If they need money to fix the terminal, they give the bill to the truckers. Everything they need to pay for here, they say, 'Oh, let's make this man pay for it!'?" Chicho plays a port official as he says this, turning to face an imaginary trucker much shorter than himself.
It has been 27 years since President Jimmy Carter freed trucking companies from the anticompetitive rate setting that once allowed them to maintain a well-paid, unionized work force, most of it organized by the International Brotherhood of Teamsters and fiercely protective of its market share and wages. The old protections on rates were considered a tax on the consumer; at the time when he signed the new law, the Motor Carrier Act of 1980, Carter believed it would have "a powerful anti-inflationary effect, reducing consumer costs by as much as $8 billion each year."
For that reason, Ralph Nader battled ardently for deregulation, as did many environmentalists: The act eliminated federal control of routes, so that trucking companies could collect goods anywhere in the country, which meant fewer trucks would squander fuel driving home empty.
"All the citizens of our nation will benefit from this legislation," Carter declared. Even "labor will benefit from increased job opportunities."
Carter was right about one or two things - thanks in part to deregulation, you can buy shoes from China much cheaper than you could in 1979. But deregulation was ruinous for labor. As trucking companies negotiated rates with shipping lines, a bidding war began that forced the 18,000-some existing trucking companies to cut their expensive unionized staff as fast as they could. Nonunion carriers sprung up like weeds: By 1990, more than 45,000 trucking lines were licensed by the Department of Commerce - more than twice as many as there were before deregulation.
Now the business model for port trucking may be about to change yet again, and in the shuffling for power and influence, everyone, from environmentalists to state regulators to the Teamsters, wants a piece of the drivers' action.
Minders of the state budget don't want to lose the truckers as a source of revenue: Over and again this past decade, a large portion of the cost of maintaining the ports' infrastructure has been shouldered by the underpaid truckers rather than the shipping industry. Governor Schwarzenegger has repeatedly vetoed state Senator Alan Lowenthal's bills to charge the steamship companies a fee on containers coming into the ports, and the federal government has refused to regulate the rates trucking companies charge to ship containers.
To the Teamsters, who lost some 200,000 or more members in the 1980 deregulation of the transportation industry, truck drivers are a potential source of new members - desperately needed new members to replace the tens of thousands more lost as Asia continues to supplant U.S. manufacturing.
To environmentalists and community activists in San Pedro, Wilmington and Long Beach, diesel exhaust from dirty trucks causes asthma attacks and lung cancer; as the state air board puts pressure on ships to burn cleaner fuel while in the harbor, they hope a fleet of new, clean trucks returns their air to its crystal-clear, natural state.
For port officials eager to accommodate what they predict will be a tripling of business in the next 20 years, the dirty-truck problem appears to be one of the more manageable pieces of the overall puzzle of port air pollution, a problem that has stood in the way of expansion since 2001, when community groups, supported by the Natural Resources Defense Council and the Coalition for Clean Air, successfully sued the Port of Los Angeles to cease construction on a new terminal for China Shipping, citing concerns for the health of local residents. Three years later, the terminal opened with electrical hookups for ships parked in the harbor (visiting trucks, however, still pollute), and port officials are predicting that newer, cleaner trucks will reduce air pollution sufficiently to mollify the litigious environmental and community groups.
United under the single banner of the Coalition for Clean and Safe Ports, environmental and labor groups have lobbied hard for an overhauling of what's known as the "port drayage" system. This, they say, is needed to repair dangerous highways, reduce air pollution and even shore up the state's deteriorating infrastructure. And in April, they announced something of a victory: The ports of Los Angeles and Long Beach, now engaged in a coordinated effort to clean up the air, agreed to integrate a Clean Trucks Program into their ballyhooed and historic Clean Air Action Plan.
Under the new trucks plan, slated to begin its first stage in January 2008, existing port trucks will be gradually replaced with newer models, funded by $1.8 billion in subsidies from a variety of sources, including port revenues and state bond moneys. By 2012, the plan aims to have every pre-2007 truck off the port-adjacent roadways for good.
"It's a very ambitious schedule," admits Port of Long Beach Planning Director Bob Kanter. "But we must make these radical changes, and we must make them now."
But there's another catch to the Clean Trucks Program, one that isn't as simple as upgrading the trucks: To gain entry to the mighty ports of Southern California, say port officials, trucking companies will have to sever their relationships with truckers as owner-operators and bring them onboard as employees. With health care. And vacation.
"We're landlords and we're going to start acting like it," Harbor Commission President S. David Freeman tells me at a rally for the truckers last March. "No more of this owner-operator business; we're putting an end to that."
For now, the ports have agreed to a 60-day study period to determine the economic impact of the program, but both Freeman and Port of Los Angeles Executive Director Geraldine Knatz insist that the labor provision of what they call "the concessionaire model" will not change, no matter what the study determines.
"There just hasn't been any other model proposed to us that's going to be able to deliver what we need," Knatz says.
Freeman is more direct, and when asked whether the plan isn't just a softhearted liberal concession to the beleaguered drivers, says, "We can't very well be giving away new trucks to just anybody, can we? We need people with deep enough pockets that we can hurt them if they do something wrong."
It's no surprise that the California Trucking Association, which represents the 1,800-odd trucking firms that serve the ports - some no bigger than 10 workers strong - plans to sue to stop or drastically change the plan. "We don't think they have the jurisdiction to make these kind of rules," says Patty Senecal, voluntary spokesperson for the CTA, at a recent meeting of the state's air board at the Port of Los Angeles. "Are we saying now that cities have more power than the state to regulate air quality? More than the federal government?
"It's re-regulation," she adds. "And it's more than likely going to court."
Not all truckers at the ports believe the Clean Trucks Program is the answer to their woes either.
"They haven't told us anything - how much they're going to pay us for our trucks, how much they're going to pay us for work, nothing," says Paul Ventura, a driver from Mexico who's been working the ports for five years. Ventura is standing along the railing outside a meeting held for the truckers at Banning Landing in Wilmington, listening cautiously. I ask him in Spanish whether he thinks the majority of the truck drivers at the ports want to be employees.
"I don't think so," he says. "We worry that we won't have any control over work, over prices. They're just doing this so they don't have to fix the real problem, which is the long lines at the port, and those are caused by the longshoremen and the clerks not doing their jobs fast enough. They make us employees, but we'll never get paid as much as the longshoremen. And the longshoremen can just keep doing whatever they want."
Rivera shares his concerns. "What are they going to pay us?" he asks. "Fifteen dollars an hour? That's not enough. Will they pay our insurance? The insurance we have to pay on the load?"
"How much will they pay us for the old trucks that we own?" Chicho wonders. "Will they be thinking about the old people who are working when they hire people, or will they just be looking for young guys?"
"They talk about the trucks, the trucks, the trucks," he says. "But does anyone care about the drivers?"
"See it lean?" says Miguel Lopez, the port representative for the International Brotherhood of Teamsters. He points toward a container truck pulling out of a dirt lot in San Pedro, just across from the China Shipping terminal. "If you were up close, you could hear the noise it makes. It's that kind of thing that can flip over on you on the freeway."
It's a windy morning in the spring of 2006 when I meet up with Lopez, who wants me to see how bad port truckers - and by extension the residents of Southern California - need the Teamsters. "These guys would put their trucks back together with cardboard and glue if they could," he says. "They ?can't afford to think about safety."
In the dirt lot we find Alejandro, a slight, thin man from El Salvador who works for the truckers the way the truckers work for trucking brokers - job by job. Alejandro pulls his pickup truck close to the back wheels of a 1999 Peterbilt semitrailer container truck owned and operated by a Nicaraguan immigrant named Carlos. With an implement that looks like a tiny crowbar, Alejandro hand-carves new ridges into the tires' treads. He works slowly and carefully, etching a zigzag pattern in the tires with his treading knife and then pulling out the long string of loose rubber. At the end of the day, the ground will be littered with rubber rickrack, the detritus from a hard day of Alejandro's work. If the California Highway Patrol pulls Carlos over for an inspection, his grooves will meet the legal eighth-of-an-inch standard.
"That's illegal," Lopez says gruffly. "It's not safe to retread tires this way; they're supposed to get them replaced. But they can't afford it, see? These men don't make enough money to feed their families. They don't have $3,000 to spend on 10 new tires."
Alejandro, who only speaks Spanish, smiles and continues his painstaking work on Carlos' truck, for which he gets paid $35 per tire. (Carlos, for his part, offers to help me find a boyfriend on the lot, someone to help me speak better Spanish. "Truckers, you know," he says, "we don't have time for wives.")
At the time when I first met Lopez, the union, along with another labor consortium with a name reminiscent of sweepstakes or sports challenges, Change to Win, had been working hard for months to call the public's attention to the problem of ports and port trucking, without much luck. But last winter, their efforts were given a boost when Dubai Ports World announced its intent to purchase 22 U.S. ports from a British firm, P&O. Neither Long Beach nor Los Angeles was among those 22 cities, but the news put ports in the media spotlight: A rash of stories about post-9/11 security and keeping America's ports out of foreign hands (even though all-American ownership disappeared years ago) made it easier for men like Lopez to call attention to the risks associated with a work force of immigrant labor, all in business as independent owner-operators.
"I'm trying to make the public aware of this situation, that it puts us all in harm's way," Lopez says. "And once we make them aware, we're going to leverage that awareness to get something in place to stabilize this work force. Industry has to change the way it does business."
Lopez talks to a tall, curly-haired man named Armistedes. He listens carefully to Lopez's pitch, then shows us his Department of Motor Vehicles registration card, proving that he pays $1,987 on his own truck plus $1,158 per year on the shipper-owned chassis. "I don't know how it happened that we have to pay this," he says. "One year, it's just the truck, the next year, it's like this. We don't know why. How did this happen?"
Lopez explains that the road tax was added in 2001 to fund the repair of California's freeways, which have been overburdened by heavy freight coming from the bustling ports. The cost might have been more rightfully borne by shipping companies such as Maersk-Sea-Land, Evergreen and China Shipping. But as the international megabillion-dollar shipping industry pays lavishly for lobbying in Sacramento, the burden, like so many others, got shoved onto the truckers.
"We get no money, no workers' comp, no disability, nothing," says Armistedes, stretching his hamstrings by setting one leg on his wheel well and bending his body toward it. "But it's our fault, because we're not united. For instance, we don't get together and demand that rates go up. If fuel goes up, the rates should go up. But the rates just keep going down."
"You need to understand that everybody is in the same position as you are," Lopez says to him. "And you can't fight it by yourself. Everybody needs to be together to make things better."
Another cluster of drivers listens in from a few feet away, warily interested in what Lopez is saying, clearly unsure what to make of this stocky man with neatly slicked-back hair wearing a blue T-shirt and jeans, a man who for some unknown reason wants them so badly to stick up for their rights. They say little.
Continued from page 4
"You have to be careful," one of them tells me as he takes me over to see his bald tires, laughing a little at their sorry condition. "El due?o puede oir todo" - "the boss can hear everything."
Lopez seems to have a natural rapport with many of the drivers stopping by the dirt lot, and he knows a lot about their circumstances - working conditions and government laws that are, by any measure, unfair. But as the months wear on, the organizing drive seems to hold more sway with local environmental groups and port officials than it does with the truckers themselves.
After deregulation in 1979, the new trucking lines that emerged hired independent owner-operator truckers; federal labor law prevented these drivers from joining a union or otherwise organizing as a work force. Still, over the years, they tried: In 1996, 6,000 drivers participated in a work stoppage led by the Communication Workers of America, a strike that went nowhere and cost truckers huge losses as shippers and trucking lines simply went about their business with a skeletal crew. In 2006, on May 1, the Day Without Immigrants kept 90 percent of the drivers out of their trucks, and for a day, freight simply didn't move.
But the Teamsters have been far less successful, holding one underattended rally after another, each with a strangely Potemkin-village feel to it: A single rally last spring with free food and water peaked at 200 truckers, but previous rallies, such as a convoy that circled Long Beach City Hall last November, lured only a dozen, and another action in late June of this year, billed as a stunt that would shut down the 110 freeway with 100 dirty trucks, pulled together only 30 trucks, and traffic didn't slow at all.
Honorio Ramirez blames the problem on the truckers' unwillingness to organize. "Nobody wants to stop working," he says. But another man I meet at the port, who asks not to be identified, puts it in more descriptive terms as he observes the buff and energetic Teamsters organizers prowling the dirt lot.
"These [Teamster organizers] come down here in the blue T-shirts and nice haircuts, and right away I knew they weren't truckers. They're too big! I thought they were police or FBI. They must take a lot of vitamins."
In the late 1930s, a gas-station entrepreneur turned trucking magnate named Malcom McClean watched rectangular cotton bales being loaded onto trucks by crane and wondered whether a truck trailer could be filled with goods and then transferred in its entirety - without intermediate unloading - from ship to truck. Nearly two decades later, in 1956, he tried it out. With $12 million in annual profits from his trucking business, he bought a tanker ship, the Ideal-X, pulled it into a port in New Jersey and loaded it with 58 truck bodies crammed with goods. When the ship arrived at port in Houston, 58 trucks with newly minted chassis were waiting to receive them. It was an act that changed everything - the way we dress, shop, eat, work; who we trade with, who we don't, how much we pay for our sweaters and how little control we have over our imports (the recent spate of China recalls, in fact, could never have happened without the container revolution).
"Before the container," writes Marc Levinson in his book The Box: How the Shipping Container Made the World Smaller and the World Economy Bigger, "transporting goods was expensive - so expensive that it did not pay to ship many things halfway across the country, much less halfway across the world." After containerization, "the cost of bringing raw materials in and sending finished goods out had dropped like a stone."
The advent of containerization also, eventually, changed the map of the world: No longer were New York Harbor and Liverpool chief points of entry for imported goods in their respective countries. Too small to handle the huge container ships like McClean's Ideal-X tanker, and too crowded to accommodate the towering gantry cranes so essential to container transfer, these historic ports gave way to more modern harbors at Port Elizabeth, New Jersey, and Felixstowe in the U.K. As both the price of doing business with Asia dropped and trade regulations relaxed with China, the combined ports of Los Angeles and Long Beach inched up to occupy the No. 5 spot on the list of the busiest container ports in the world.
None of this happened instantly. The benefits of container shipping over the traditional "break-bulk" way of shipping goods were obvious to most manufacturers - it meant they didn't have to pay leagues of dockworkers to unload shipped goods box by box (all the while hoarding a few boxes for the mobs that ran the waterfront); they only needed a crane operator to pick up the container and maneuver it onto a ship. But both labor unions and the old ports themselves fought hard for the status quo.
It would take 20 years for containerization to take hold over the global economy. It would also take a war: Just as Phineas Banning put San Pedro Harbor on the map in the 19th century supplying Union troops in West Coast outposts during the Civil War, McClean only managed to prove the merits of his system during the Vietnam War, when his new shipping company, Sea-Land, ponied up for a container terminal at Da Nang Harbor to resupply the military there. By the end of the 1990s, container shipping accounted for nearly all of the ship traffic entering the San Pedro and Long Beach harbors.
It's hard to overestimate the impact of McClean's invention on the modern world - almost every exaggeration about it turns out to be true. Containerization obliterated the tight-knit communities of workers on the docks and replaced them with a much smaller staff of machine operators and clerks, and thus revolutionized the business of moving goods from one point to the next. As containerization overtook break-bulk cargo handling, shipping companies looked for more ways to increase profits, including re-examining a labor force that in some ways had become obsolete.
Continued from page 5
The dockworkers, with their formidable union, the ILWU, managed to hold wage and price protections in place as well as increase their membership by drawing new members into their union, such as shipping clerks and office personnel. Because you couldn't build a new port overnight and staff it with nonunion workers, the longshoremen could keep pressure on an industry that wanted nothing to stand in the way of its rapid growth. Crane operators, the "cr?me de la cr?me" of the port work force, now make upward of $100,000 a year; clerks $30 to 40 an hour, or $70,000 to $90,000 per year.
But the Teamsters had no such luck with truckers. The rapid deregulation of the transportation industry coincided with a period of bloody civil war in three Central American countries, and while trucking companies scrambled to dismantle their expensive work force, they were greeted by people who had just made their arduous way out of war-torn Central American countries and were willing to work hard without asking too many questions. If you threw a camshaft into the crowd at the dirt lot on Knoll Street, you would likely find a man who had come over from Nicaragua, El Salvador or Guatemala 20 to 25 years ago because his village had been burned to the ground and, anyway, there was no work.
People like Honario Ramirez (Nicaragua, 24 years ago), Wenceslao Rodriguez (Guatemala, 25 years ago) and the very drivers the Teamsters would like to organize now came in as scabs in the 1980s, desperate for work they could take without verifying their citizenship.
There is widespread concern among the current crop of drivers that many of them will lose their jobs once the ports' plan goes into effect. Outside a meeting at Banning Landing in early June, I ask Patricia Castellanos, co-director of the ports' labor campaign for a group called the Los Angeles Alliance for a New Economy, whether the plan to replace the port trucks and make drivers employees would protect the jobs of the current port truckers. "Preferential hiring" of the existing work force has been built into the program, but labor protections for existing workers typically apply only to workers making the transition from unionized employee to non-unionized employee - not to independent contractors making the jump to employee status. Castellanos insists that the drivers would be hard to replace.
"If you listen to them, you'll hear that most of them have been driving for 20, 25 years," she says. "It seems unlikely that the trucking companies would be able to find qualified drivers to replace them." She notes that requirements for commercial licenses were stringent, and that "driving at the ports is like nothing else." She also cites the nationwide shortage of short-haul truckers.
But if working conditions improve, will the shortage continue? And what about undocumented workers - by some estimates 25 percent to 40 percent of the current port trucker population - who somehow manage to secure commercial licenses without documentation?
"They'll fall off anyway because of TWIC," says Arley Baker. TWIC, the Transportation Workers Identity Confirmation program, will require as of January 2008 that everyone working in the business of containerized trade and transport have federal certification, a process that will require certification of U.S. citizenship, legal-resident status or a work visa. "They won't be able to come and go as they please anymore."
Baker shrugs off the truckers' worries about their future as employees. "There's a lot of flexibility in the working hours," he says. "I remember when everyone hated PierPASS. Now they're used to it, and 39 percent of the goods move at night."
Most truckers, though, hate PierPASS, the program instituted in 2004 to relieve congestion at the ports by extending terminal operating hours. The program benefited shippers by allowing the loading and unloading of freight at all hours of the night and day. The ILWU likes it because it increased possibilities for overtime hours. But for truckers it just meant more waiting: Loads that used to be concentrated into 10 or 12 hours were now spread out over 24. Truckers now say they commonly work 16 hours a day - lying in their official log books - to pick up enough loads to pay their bills. And the long waits at the terminals have not abated.
"I have someone good for you," Saul Vasquez says. "He wants to talk, and he speaks English pretty good."
Vasquez runs the lunch truck at the dirt lot on Knoll Street, where, except for him, the scene changes slightly every day. Sometimes there is Mary, a petite, attractive redhead who stands behind a folding table stocked with little white bottles of pills and foil packets of powders, including HerbaLife vitamins for better eyesight, and effervescent drink tablets - "por la energ?a," she tells me - which, by my own anecdotal testing, puts Rockstar to shame. On other days, a man sells sweatshirts and pants from a truck, because, he says, truckers often can't make it home at night before they start work the next day, and need to change clothes.
Juan Moreno, 39, is dressed impeccably in a white T-shirt and neatly pressed jeans, his black hair gelled into a spiky do. "I like my job," he says. "I'm my own person. I make pretty good money and I'm good at it. I'm a good driver.
"But I don't like the way I'm treated inside," he says, referring to inside the terminal, where drivers interact with clerks to pick up their loads. "They don't treat me with respect. They get mad at me almost every day. And it doesn't ever make sense what they get mad at you for."
Continued from page 6
It turns out to be a common complaint, one shared by port truckers who could rattle off a list of troubles, and others, like Juan Moreno, who refuse to carp about pay and worker's comp but do gripe about the clerks. To enter the terminal to pick up a load, a driver has to give certain information to a shipping clerk stationed at an intercom at each terminal. One bit of information is the driver's commercial driver's-license number; the rest - the chassis number, the destination and the name of the vessel delivering the cargo - he gets from the trucking firm.
"They don't call you by your name," says Marcos, another one of Vasquez's finds. "We don't speak English well, most of us, and there are technical problems sometimes with the speakers. Sometimes they ask you to repeat your driver's-license number 10 times."
"Most drivers speak only Spanish, or their English is broken, so they learn by heart what to say: the container number and the driver's license number," explains a driver named Melvin, a 40-year-old who came to the U.S. from El Salvador when he was 8. "But if the person in the speaker asks them something different, they don't understand it. And then the yelling starts."
It used to be worse, Marcos attests. "You used to have to park your truck, get out of your truck and go inside an office" to pick up a load. "Now that's changed. Now it's all electronic. And you have to be honest - things have gotten better. Evergreen and APL are still bad. But at Maersk sometimes, they even use your name."
Like many of the drivers at the port with this problem, Melvin thinks the conflict is a racial issue: Most of the clerks are women, and most of them are black, while nearly all the drivers are Spanish-speaking men.
"Black people like to intimidate us," he says. "There's competition between the races, because white people control everything."
Melvin insists I need to sneak in with a trucker to witness these interactions. But having already been in his share of trouble, he isn't willing to host me. Instead, I find another trucker, a 57-year-old grandfather named Felipe, who agrees to pick me up at the dirt lot one morning and let me crouch in the back of his truck undetected to hear what really goes on.
"As long as it's not a hot day, you'll be okay," says Felipe, whose truck has no air conditioning.
But Felipe stands me up. When I run into him a few days later at the lunch truck, I ask him what happened. "Something terrible," he told me. "A man brought his 16-year-old son in to help him, and let the son drive the truck."
Marcos explains the story to me later in the day. He circles around his truck, a tractor unhinged from any chassis, and stands in between the chassis and the cab.
"The father was standing here," he explains, gesturing at his chest with both hands. "And he told his son, 'Back up the truck as close as you can.' The son backed up and cut his father in half."
The Port of Los Angeles confirms the incident: On November 2, a trucker brought his 16-year-old son along in his cab. While the driver was on the ground, adjusting his 40-foot chassis to carry a 20-foot container, the son put the tractor into reverse and crushed his father.
"He got caught in the mechanism [of the chassis]," says port spokesperson TheresaAdams Lopez. "It was a pretty horrible accident."
Several drivers tell me that that accident has heightened security inside the terminals, which was already getting tighter - sneaking someone in isn't as easy as it used to be. "We were trying to tighten up even before that," Lopez says, "but I would say that incident made it more difficult [for truckers] to bring people in."
Beyond basic human dignity, the tension between the truckers and clerks has safety implications. In a 2004 study conducted by Kristen Monaco and Lisa Grober for Cal State Long Beach, the authors write that "several drivers mentioned to the survey team that they were hassled by workers at the terminals if they refused to take bad chassis too often, or if they spent too much time inspecting the chassis themselves." In addition, nearly 50 percent of drivers reported that they had been given a chassis that was not roadworthy in the 30 days prior to taking the survey. More than 20 percent of drivers admitted that they took the bad chassis on the road.
"I don't take no shit," Chicho tells me over the phone, as he sits at the APL terminal, his wait stretching past two hours. "You have to take three or four loads a day to make enough money to survive," he says, "and you can't when you have to wait three hours to pick up a load. The longshoremen take breaks, they come back a half-hour late - they don't care." Clerks have yelled at him, threatened him, even tried to make him haul an overweight or unsafe load.
"If they are rude to me, I get out of my truck with my picket sign," Chicho says. "I say, 'No more! You cannot treat us this way!' If they try to make me take an overweight container, I say no. I feel it when I drive away, and I say, 'I don't want to take it.'
"They say, then, 'You don't work for a day.'
"I say, 'I don't care.' I feel it overweight, I drop the load."
To Mike Mitre, president of ILWU Local 13, it's the shippers and terminal operators who create the waits - as well as the friction between the work forces - by understaffing the terminals.
Continued from page 7
"No longshoreman or clerk wants to make anyone wait," says the union president. "The smoother things go, the better it is for everyone. But the terminal operator sets the manpower rules and standards. And often there just aren't enough people on the job."
Chicho doesn't buy it. "They treat us ?like garbage," he says. "They make it so that everybody is against everybody else. This is the way everything has run in this place forever. And nobody cares."
Chicho knows that if he becomes an employee, he will need a union. But he worries about which one will win the fight to organize the truckers once they're in a position to be legally organized. The International Longshore and Warehouse Union, now caught up in contract negotiations for the shipping clerks, claims to have no interest in organizing the truckers, despite a 1997 agreement with the Pacific Merchants Shipping Associationto bring drayage jobs under its influence. Still, Chicho worries the Teamsters will prove no match for the ILWU locals.
"The longshoremen have a lot of ideas, they have power," Chicho says. "And whoever organizes the truckers - Teamsters, Wobbly, whatever - they choose the driver. If the longshoremen could take over the drivers, that would be powerful. Then they have all the power. But right now, the way things are, the longshoremen is afraid to share with the driver his economy.
"Who controls the drivers controls the pier, and who controls the pier controls the container. And who controls the container," Chicho concludes, "controls the economy in this country."
Oscar Domingo, a short, dark, mustachioed trucker, stands alone at a meeting of the air resources board, speaking Spanish to a young woman who translates his words haltingly into a microphone. He does not pretend to have the answer to this puzzle of clean air, labor rights, poverty and profit for the ports; he does not propose, as one man did, that the state of California spring for a couple of huge fans to blow the smoke out to sea. He simply pleads with the board, as everyone does, to consider his life.
"Are you thinking about the 8,000 or 9,000 families that will be affected by whatever you do?" he asks. "Do you understand what will happen to them?"
Sadly, despite all the rallies, the meetings, the organizing efforts and the official port programs, out of all the associations and trucking firms and environmental groups and new companies with new technology to save old trucks, Domingo is the least likely to be heard. No somos unidos, as one trucker told me. We are not united. And so far, no group has been up to the task of uniting.
There's yet one more possible outcome of the struggle to fix the problem of port trucking, one in which the truckers don't become employees, the trucking companies continue meting out work in parcels, the shippers continue to bid down rates, and the residents of San Pedro and Long Beach continue to breathe the ports' dirty air: an outcome that ties up regulations in the courts for years.
In early July, the California State Air Resources Board announced its own plan to clean up the state's ports, one that would apply to the Port of Oakland as well as Long Beach and Los Angeles, would address air quality in the Inland Empire and San Diego as well as the ports, and one that makes no demands on the industry except that it clean up the ports' air. According to the plan, all trucks at the port would have to display a special sticker verifying the use of modern emissions-control technology by 2010. The air board would secure bond funds to help subsidize retrofits and the purchase of new trucks, most of which (an undetermined sum) would be distributed through the individual ports.
In another world, the trucking companies and manufacturers might have fought bitterly to resist the ARB's plan. They would take the agency to court, the way the shipping industry has done, and the automobile industry has done, to stop it from doing a job they think only the federal government will do (and under the Bush administration, at least, the federal government won't do). But with the ports' more stringent and sweeping plan looming over their bleak futures, the ARB's looks pretty good to the trucking firms. In fact, the ARB itself looks like an ally - at a public workshop to explain the rules to the public, those owners of trucking firms took the microphone to beg the air board to somehow exert its authority to stop the ports from taking matters into their own hands.
Over and over again, the ARB's technology manager, Michael Miguel, refused.
"We support what [the ports] are doing as long as it meets our minimum requirements," he said, "which they seem to be going above and beyond. It would be silly for the state not to allow that."
"But their plan is veering into the very dangerous territory of free enterprise," pleaded Roger Ramirez, the owner of a company called InterCity Trucking.
"We're an air-quality board," Miguel answered. "Our goal is to clean up the air."
"You can't put some control on them to say that they can't add on labor issues?"
"We're setting emissions standards," Miguel reaffirmed. "As long as they meet the minimum emissions standards and reporting requirements, we give them the money."
"Help us," said another trucking-line owner. "We need your help."
Another trucking-company owner claimed he'd already seen business diverted in protest to the Port of New Orleans; yet another wondered why trucking lines should upgrade their equipment now if they can't weather the ports' changing business plans. "We're just going to be thrown under the bus," he said wearily. "Why should we comply?"
The CTA's Patty Senecal vowed once again to sue: "If there's pending litigation, does that stop ARB giving the ports money to upgrade the trucks?" In other words - would it be possible with one, long lawsuit to keep port trucking exactly the way it is, at least for a few years?
The answer wasn't certain. But it wasn't no.
"We'll take your valid concerns back to our bond staff," one ARB staffer finally allowed. "And we'll see what we can do."