IWW Barista Reinstated to Mall of America Location
Submitted on Fri, 09/05/2008 - 1:23pm
Disclaimer - The opinions of the author do not necessarily match those of the IWW. This article is reposted in accordance to Fair Use guidelines.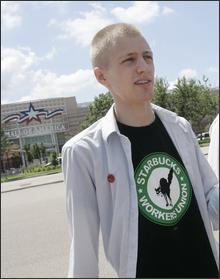 Pro-union Starbucks barista gets his job back
NEW YORK -- A barista who said he was fired from Starbucks Corp. for helping to organize fellow workers into a union has been given his job back.
In a preliminary reinstatement agreement dated Aug. 14 obtained by The Associated Press, Starbucks said its firing of employee Erik Forman was "ill-considered and should be reversed."
Forman said he will start back at work on Sunday at the same Mall ofAmerica location in Minnesota that he was fired from in July.
When he worked there, Forman said he had been talking to employees at his own store and at other stores in the area about joining the Industrial Workers of the World union.
In an interview, Forman said although several other employees at the store were members of the union, "I was the most vocal and the most active."
Starbucks spokeswoman Tara Darrow confirmed that Forman was being given his job back but said his firing and reinstatement had nothing to do with his support for the union.
"We don't track our partners' involvement in those organizations," Darrow said.
Forman said he was fired July 10 after he received a "final written warning" for showing up half an hour late to work. The warning followed two prior instances of tardiness a year earlier. Once a final written warning is issued, an employee may be fired.
Forman said he had expected a warning after showing up late for work, but not a final warning. Some employees are given half a dozen or more warnings before receiving a final one, he said, adding that managers frequently choose not to give warnings to well-liked employees.
In the agreement, Starbucks called Forman's firing "an unfortunate series of events." Darrow characterized it as "a mistake."
Besides giving him back his job, Starbucks is also paying Forman about $2,000 in back pay, he said.
Forman said he believes Starbucks reinstated him partly due to pressure from the IWW and other Starbucks workers. His co-workers at the Mall of America store walked out of work the day after he was fired in protest and Forman said about 50 Starbucks employees in the area signed a petition asking the company to give him his job back.
Forman also said he filed an unfair labor practice complaint against Starbucks with the National Labor Relations Board the day after he was fired.
Darrow said the filing of complaint did not influence Starbucks' decision to re-hire Forman and that the company reviewed the situation at Forman's request.
Although Starbucks has asked him to voluntarily withdraw the NLRB complaint now that he has his job back, Forman said he still intends to pursue it.
"The law was violated," Forman said. "They haven't given me any guarantee that this will not happen again."
Robert Chester, regional director for the NLRB in Minneapolis, confirmed that Forman filed the complaint in July and said the office is investigating.
If the NLRB deems that a law was broken, it will attempt to negotiate a settlement between Forman and Starbucks. If they don't agree to a settlement, the case would then go to court.
In 2006, Starbucks entered into a settlement with the NLRB to resolve a complaint filed by New York City workers attempting to organize a union at a Starbucks store. In that settlement, Starbucks rehired two employees that had been fired and posted a notice in three stores for 60 days affirming the rights of workers to unionize under the National
Labor Relations Act.
Starbucks also settled with the NLRB in a 2007 Grand Rapids, Mich. case that involved bulletin board postings and an alleged comment made by a manager that an employee said was threatening.
Darrow said Starbucks did not admit to any wrongdoing in either settlement agreement and that the company decided to settle the cases to save both time and expense for all parties.