Starbucks settles NLRB complaint of fired barista
Submitted on Thu, 10/02/2008 - 7:09pm
Disclaimer - The opinions of the author do not necessarily match those of the IWW. The image pictured to the right did not appear in the original article, we have added it here to provide a visual perspective. This article is reposted in accordance to Fair Use guidelines.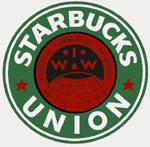 By LAUREN SHEPHERD - NEW YORK (AP) -- Starbucks Corp. has settled a National Labor Relations Board complaint with an employee who said he was fired this summer for promoting union activity.
The agreement marks the gourmet coffee chain's third settlement of an NLRB complaint alleging the company was attempting to dissuade employees from joining a union.
The settlement stemmed from a complaint filed in July by Minneapolis barista Erik Forman who claimed he was fired for encouraging workers to join the Industrial Workers of the World union. He was fired July 10 after he received a "final written warning" for showing up half an hour late to work. The warning followed two earlier tardy notices.
Starbucks then reversed its decision and hired Forman back in August, saying the initial firing was "ill-considered." Starbucks, though, said Forman's firing had nothing to do with his activity in the union.
"We view this settlement of the NLRB charge as confirming the steps we already took to make things right in this situation," Starbucks said in a statement.
When Starbucks gave Forman his job back, the company asked him to voluntarily withdraw his NLRB complaint, but he decided to move forward with it.
Marlin Osthus, acting regional director for the NLRB in Minneapolis, said the board concluded after an investigation that there was "enough evidence" that Forman was unlawfully fired for participating in "concerted protected activities" which are typically group activities that attempt to improve working conditions.
Once the NLRB determines a complaint has merit, the board proposes a settlement between the company and the person who filed the complaint.
Osthus confirmed that the board followed that procedure in Forman's case.
Under the terms of the settlement, Starbucks will post a notice in Forman's store for 60 days informing workers they have a right to unionize under federal law. Starbucks will also remove from its files any reference to Forman's firing and will repay him for any loss of earnings.
In 2006, Starbucks entered into a settlement with the NLRB to resolve a complaint filed by New York City workers attempting to organize a union at a Starbucks store. In that settlement, Starbucks rehired two employees that had been fired and posted a notice in three stores for 60 days affirming the rights of workers to unionize.
Starbucks also settled with the NLRB in a 2007 Grand Rapids, Mich., case that involved bulletin board postings and an alleged comment made by a manager that an employee said was threatening.
Starbucks has said it did not admit to any wrongdoing in either of the previous settlement agreements and that the company decided to settle the cases to save both time and expense for all parties.
Starbucks shares climbed 13 cents to $15 in afternoon trading.
Daniel Gross
Organizer
IWW Starbucks Workers Union
Ph:(917) 577-1110
Fx:(917) 591-6128