Starbucks' Legal Troubles Deepen as Union Files Charges with NLRB on nearly 30 Rights' Violations
Submitted on Wed, 01/07/2009 - 5:41pm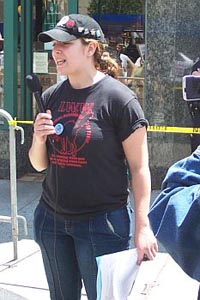 FOR IMMEDIATE RELEASE
Starbucks Workers Union / Industrial Workers of the World
Contact: Erik Forman, 608 695 8705
January 7, 2008
Starbucks' Legal Troubles Deepen as Union Files Charges with National Labor Relations Board on nearly 30 Rights' Violations
Twin Cities Baristas to Illustrate Impact of Union-busting with Big "Performance Review" of Starbucks Management
Minneapolis -- On the heels of a landmark decision finding Starbucks guilty of almost 30 labor violations in New York City, the IWW Starbucks Workers Union has slapped the embattled coffee giant with new charges of nearly 30 additional counts of illegal union-busting in Minneapolis/St. Paul. The union alleges that Starbucks broke federal law repeatedly by interrogating workers about union sympathies, instructing supervisors to spy on the union, and disciplining workers for participating in the union. Union baristas plan to deliver a six-month "Performance Review" of Starbucks to regional management to illustrate their disgust.
Union barista Erik Forman said, "After the guilty verdict in New York City and settlements in the Twin Cities and Grand Rapids, we had hoped that Starbucks would have learned its lesson, but unfortunately, the company has chosen to continue the pattern of illegal union-busting they have established across the US. We will not stand for this, Starbucks must respect our right to organize."
In late December, a federal ruling against Starbucks concluded a two-year legal battle between Starbucks and baristas represented by the Industrial Workers of the World labor union in New York City, ordering the reinstatement of three baristas fired for union activity. The ruling parallels recent events in Grand Rapid, MI and the Twin Cities where Starbucks settled two similar Unfair Labor Practice charges.
Background
Since the launch of the IWW campaign at Starbucks on May 17, 2004, the company has been cited multiple times for illegal union-busting by the National Labor Relations Board.  The company settled two complaints against it and was recently found guilty by a federal judge in New York of nearly 30 rights" violations.  Starbucks" large anti-union operation is carried out in conjunction with the Akin Gump law firm and the Edelman public relations firm.
The IWW Starbucks Workers Union is a grassroots organization of over 200 current and former employees at the world's largest coffee chain united for secure work hours and a living wage.  The union has members throughout the United States fighting for systemic change at the company and remedying individual grievances with management.  The SWU has been especially active in New York City, Chicago, Grand Rapids, and Minneapolis.
Related:
New York Times --
Starbucks Loses Round in Battle over Union