Update on Justice for Starbucks Worker Aizze
Submitted on Wed, 08/26/2009 - 2:56am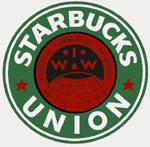 Hello Fellow Workers, Customers and Friends of Aizze!
Thank you so much for your support for Azmera.  By signing the petition, calling-in to Starbucks management, and coming out for a hugely successful picket of the Snelling & Selby store last Saturday, we have sent a strong message to Starbucks that Aizze is not alone and that we will not stand for discrimination. The picket was covered by several media outlets, including the Star Tribune <
http://www.startribune.com/local/53307332.html
> and Pioneer Press <
http://www.twincities.com/life/ci_13132224
>. According to workers at Snelling & Selby, sales dropped by over 50% during the hour and a half that we picketed the store.
After the picket, Aizze had a brief phone conversation with Becky Critch, Starbucks Human Resources Manager. We had hoped that Starbucks would present an offer, but instead, Critch attempted to dominate the conversation, asking probing questions about Aizze's work history.
Critch refused to allow Aizze to answer questions in writing.  After the traumatic experience of her interrogation in the back room of the store, it is highly insulting for management to expect Aizze to submit to further oral questioning.
With no offer from Starbucks on the table, it's time to increase the pressure.
What's Next?
1.  Please continue to call Starbucks Area Director DIMITRI HATZIGEORGIOU at 312-731-8909 to tell him you support Aizze's demands.
2.  We have invited fellow workers, customers and community members to come and meet Aizze on SUNDAY, AUGUST 30 at 1PM at Coffee con Amore, 917 Grand Avenue, Saint Paul.  This will be an opportunity to hear from Aizze, discuss the next steps in the campaign, and learn more about the Starbucks Workers Union. Join us!
3. During this tough time for Aizze and her family, you may consider making a donation to help Aizze while she is unemployed.  A customer of Aizze's established a fund through PayPal for supporters to make donation directly to Aizze. You can donate at
http://tcsbuxunion.com
Again, thank you all so much for your support and solidarity with us in this struggle.
-The Justice for Aizze Team
Contact info.:
Anja Witek: ahwitek [at] gmail.com, (651) 587-9593
justiceforaizze [at] gmail.com