Baristas Call on Starbucks to Honor Dr. King with March and Rally
Submitted on Tue, 01/19/2010 - 3:30pm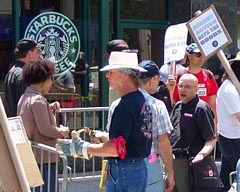 For Immediate Release:
Industrial Workers of the World (NYC)

January 18, 2010

Contact: Liberte Locke, 917-693-7742

Baristas Call on Starbucks to Honor Dr. King with March and Rally

IWW demands that coffee giant pay workers the same premium it pays on other federal holidays

New York, NY- The Industrial Workers of the World (IWW) branch here held a march and rally at Starbucks today to call on the corporation to honor Dr. Martin Luther King, Jr. on the federal holiday commemorating his birth. The Starbucks Workers Union of the IWW is demanding that Starbucks pay a holiday premium to baristas who work on MLK Day just as the Seattle-based chain does for five other federal holidays.

"Starbucks claims to support diversity with 'the idea of inclusion,' but the company effectively treats MLK Day as a second class holiday," said Henry Marin, a Starbucks barista and member of the union. "It is truly a dishonor to Dr. Martin Luther King Jr. and to the values and ideals that he represents."

The union rallied outside of the Union Square East Starbucks location with supporters and the Rude Mechanical Orchestra marching band.  In between speakers, supporters chanted phrases such as "overpriced coffee, underpaid workers" and "no union, no latte."

This is the third consecutive MLK Day that has seen the Starbucks Workers Union calling on the company to treat Dr. King's holiday with respect.

"Paying time and a half on MLK Day would be money much needed to struggling baristas and at the same time would be a concrete way for Starbucks to 'embrace diversity' as it claims to do," said Vance Hinton, a Starbucks barista and member of the IWW.

After rallying and speaking out at Starbucks, IWW members and supporters marched to Kmart where the union is demanding that the Sears Holding owned company drop Media Planning Group (MPG) as their media planning and buying agency and instead chose a socially responsible ad agency.

The IWW Starbucks Workers Union is a grassroots organization of baristas, bussers, and shift supervisors united for a living wage, secure work hours, and affordable health care at the world's largest coffee chain. The union enjoyed robust membership growth around the United States and expanded to Canada last year. Last month, the union welcomed its newest members, from Fort Worth Texas, with a spirited protest action for affordable health care.

Founded in 1905, the Industrial Workers of the World is a global labor union dedicated to workplace democracy and the dignity of all working people.