Momentum Builds for Jimmy Johns Workers Union ahead of National Week of Action; Supporters to Take Action in 32 States
Submitted on Mon, 09/06/2010 - 3:09pm
Still no response from corporate headquarters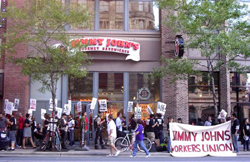 MINNEAPOLIS - In the true spirit of Labor Day, supporters of the Jimmy Johns Workers Union in 32 states nationwide will take to the streets in an unprecedented National Week of Action to pressure Minneapolis franchise owner MikLin enterprises to meet with their workers.
In Minneapolis alone, more than 200 union members and supporters are expected to rally at the University of Minnesota for a performance by local hip-hop stars I Self Divine and Guante, followed by a march on two area stores.
The Minneapolis Jimmy Johns Workers Union, the first chapter in the country, is riding high on the momentum of several days of successful demonstrations and pickets in Minneapolis with crowds in the hundreds.
The union says actions will intensify as long as owner Mike Mulligan and General Manager Rob Mulligan refuse to meet with the union. "The Mulligans need to know that we aren't just hard-working employees, but students and parents; real people with real concerns. These are our lives. We're tired of being ignored and degraded at job after low wage job. We're tired of being expendable," said Jake Foucalt, a union member in Minneapolis. "The pressure will continue to build until we are listened to."
The national corporate headquarters of Jimmy Johns has yet to respond to the unionization campaign, the first at the expanding sandwich empire. The union effort could have profound implications for other employers in the fast food industry, a sector known for the lowest rate of unionization– and lowest wages– in the United Sates. Only 1.8% of food service workers were represented by a union in 2009, far below the nation-wide figure of 12.3%, according to the Bureau of Labor Statistics.
A person working 30 hours a week on the federal minimum wage of $7.25 would make $3260 below the federal poverty line for a family of two. Jimmy Johns pays minimum wage and maintains a corporate policy of discouraging managers from scheduling workers more than 20 hours per week.
The demands of the IWW Jimmy Johns Workers Union include a pay increase to above minimum wage, consistent scheduling and minimum shift lengths, regularly scheduled breaks, sick days, no-nonsense workers compensation for job-related injuries, an end to sexual harassment at work, and basic fairness on the job.
The Jimmy Johns Workers Union, open to employees at the company nationwide, is the first fast food union in the nation, and is affiliated with the Industrial Workers of the World labor union. Gaining prominence in recent years for organizing Starbucks workers, the IWW is a global union founded over a century ago for all working people.