Student Debt Dance-a-Thon in Dinkytown Protests Low Wages and Skyrocketing Tuition
Submitted on Fri, 10/08/2010 - 1:55pm
Jimmy Johns Workers Join National Day of Action in Defense of Education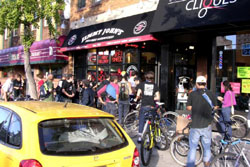 MINNEAPOLIS– Dinkytown will resound with protest chants and techno beats at 4pm this afternoon as Jimmy Johns workers and student allies join in a dance party protest of low service industry wages and skyrocketing tuition at the nation's colleges and universities.
"There's no way you can pay for school or pay off student loans on the poverty wages workers like us make at Jimmy John's and other fast food businesses," said Emily Pzybylski a delivery driver at the Dinkytown Jimmy Johns and student at the University of Minnesota. "High tuition and low wages turn these into dead-end jobs," she added.
Many Jimmy Johns workers are either attending college, paying back student loans, or hoping to go back to school for additional job training in order to escape low-wage service industry employment. As college and university tuition has increased, the dream of higher education has become an unreachable mirage for many. Tuition at the University of Minnesota has more than doubled in the last decade. At the same time, university graduates have found fewer and fewer job opportunities, prompting BusinessWeek to dub today's young workers "The Lost Generation" because of high rates of joblessness and chronic underemployment.
"People say 'get a better job.' What they don't realize is that places like Jimmy Johns are some of the only jobs that are left. We decided to organize a labor union at Jimmy Johns because if we're going to be stuck in this service economy, then it needs to provide quality jobs for working families. We are not going to be a 'lost generation'," said Ayo Collins, a worker at the sandwich chain.
The National Labor Relations Board will conduct a union election for 200 Jimmy Johns employees at 10 Minneapolis locations on October 22, a historic first for the nation's largely non-union fast food industry. If a majority of Minneapolis Jimmy Johns workers vote in favor of the union, franchise owners Mike and Rob Mulligan will be legally required to negotiate in good faith over the terms of a contract. The Jimmy Johns Workers Union is seeking improved wages, sick days, consistent scheduling, and basic respect for workers.
The Jimmy Johns Workers Union, open to employees at the company nationwide, is affiliated with the Industrial Workers of the World labor union. Gaining prominence in recent years for organizing Starbucks workers, the IWW is a global union founded over a century ago for all working people.