Wobbly Phone Blast for PDX Social Service Workers
Submitted on Mon, 02/14/2011 - 11:41am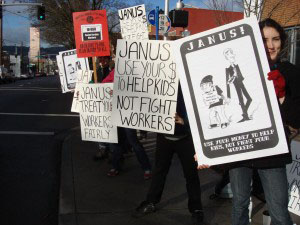 Fellow Workers,
Some workers and wobblies in Portland, OR could really use some solidarity in the form of some phone calls.
The Portland branch of the Industrial Workers of the World (IWW), workers at Streetlight and Porchlight youth shelters, and workers form Harry's Mother (two Janus non-profit programs) began picketing in front of Janus Youth Program's main office at 707 NE Couch on February 7th. We are doing so because Janus is in contract negotiations with these two different IWW-represented shops, and in both of those contacts, there is an employee review panel which has been in place for a decade which gives workers the right to contest firings and have a no-cost review of those management decisions. Janus is now claiming they will not sign the contacts with those time-honored panels, and is refusing to give workers their pay increases, until workers accept binding arbitration instead of the peer review panel, which would cost the workers and the union potentially thousands of dollars they don't have.
More info and a press release are available at portlandiww.org
Please call this week (2/14-2/19) in the morning between 9am and 11am west coast time.
Call Janus's Main office, request to speak with Dennis Morrow. .
Email the executive director at [email protected]
And. their negotiating team which consists of a program director and a lawyer [email protected], [email protected]
We are looking to set a tone that is both polite and firm.
Here is a sample script,
Hello,
This is ________________________. I am calling in support of the union workers at Janus Youth. They deserve both the peer review panel and a decent wage. Do not deny the democratic oversight provided by the peer review panel and replace with a process that could cost workers and the program thousands of dollars. As a non-profit, you should use your money to help youth, not fight workers.
PDX Janus Picket Video & Interview - link