Demand Paid Sick Days!
Submitted on Thu, 10/04/2012 - 7:39pm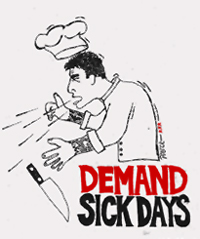 * PAID SICK DAYS NOW! * RALLY AT HOLLADAY PARK * SATURDAY, OCTOBER 6, 4PM *NE MULTNOMAH & 13TH AVE *
Email: paidsickdaysnow [at] gmail.com
Phone: 971-266-1891
Saturday, October 6, 2012 4pm, at Holladay Park, the Portland Branch of the Industrial Workers of the World and the IWW's Food & Retail Workers United will hold a rally as part of a campaign to win paid sick days for all workers in Portland, Oregon. This event is sponsored by Laborers 483, American Friends Service Committee, We Are Oregon, Portland Jobs with Justice, Portland Central American Solidarity Committee, Portland Restaurant Workers Association, and the International Socialist Organization.
Featured at the rally will be speakers and musical acts, including Mic Crenshaw, The Crossettes, and I Wobble Wobble, as well as worker testimonies and opportunities to learn more about the campaign and get involved.
The rally officially kicks off our campaign, which is founded on the following mission:
We, the workers of Portland, acting in solidarity across industries, seek to improve the health and well-being of our fellow workers, families and communities. Therefore we demand that all employers within Portland provide all employees -- whether full-time, part-time or temporary -- with paid sick and safe days commensurate with hours worked.
Our Five Point Demand:
1. All of us -- full time, part time and temporary workers -- deserve paid sick and safe days to care for ourselves and our families as members of the community.
2. We call on all employers to provide paid sick and safe days immediately.
3. We need paid sick and safe days to care for our own:
● illness, which includes physical and mental health issues
● injury
● preventative care
● safety when experiencing domestic abuse, sexual assault or stalking
● and bereavement for our family members.
We -- as caregivers, parents, and partners -- need paid sick days to care for our:
● spouses & domestic partners
● biological, foster, or adopted children, stepchildren, and children of domestic partners
● and other family members under our care
4. Employers will implement a standard accrual rate of paid sick and safe days for all
employees. The rate must be compassionate to the need of workers to care for both ourselves and our families.
5. Employers will not interfere, discriminate, or retaliate against our request for or use of paid sick and safe days to care for ourselves and loved ones.
We cannot wait until it's politically convenient for paid sick & safe days. A grassroots campaign led by the workers, families and communities who are most affected by the lack of paid sick days is a necessity to ensure we acquire a policy which meets our needs.
We call upon all workers and community allies interested in learning more and participating in our campaign to attend the rally on October 6 in Holladay Park!
"An illness to one is contagious to all!"
For more information please visit http://paidsickdaysnow.org