IWW Shops Hold May Day Rally
Submitted on Fri, 05/04/2012 - 10:30am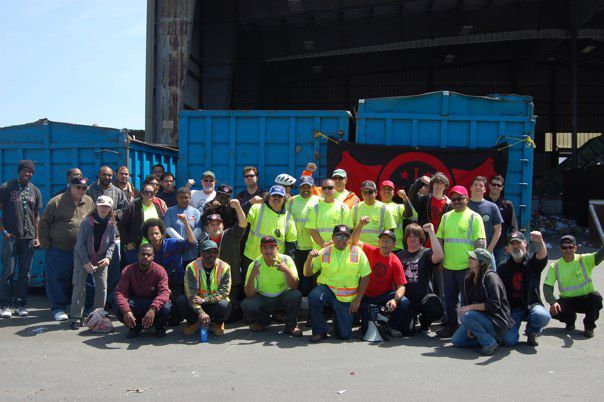 By John Reimann
The boss was sweating bullets. The IWW was in the house, his workers were about to stop work for May Day, and he wasn't happy about it at all. But there was nothing he could do about it since all his workers were IWW members and they support the union. This was at Buy Back recycling in Berkeley, which functions under an IWW contract as does Curbside Pickups, the work place next door, whose workers were also about to stop work for May Day, 2012.
IWW organizers and union members on the job had been organizing a stop-work rally for the previous two weeks and here it was.
Workers from both work places stopped work for about an hour to celebrate International Workers Day in a work place rally. Most of those who spoke were the Curbside and Buy Back workers themselves, and they spoke about the conditions of their jobs and the attacks on their health benefits and other such concerns. A worker at Curbside had recently had a very serious injury (which resulted in having to have a foot amputated). Several Curbside workers commented on this and the belief that the long hours of overtime may well have been related to this, because when workers are tired accidents are more likely to happen. There were several speakers from outside the work place including Boots Riley, the revolutionary Oakland rap artist, who spoke among other things about his experiences with workers in Italy. Other fellow workers spoke on a number of issues including the history of May Day, issues for grocery workers, and on privatization and the union busting in the Oakland public school system. One noteworthy message of greeting was read from a representative of the Pakistan Labor Party. The message referred to some of the strikes in Pakistan recently and concluded by calling for the workers of the world to unite. The rally concluded with a speech from a fellow worker who called for revolution (and got a good hand of applause for that).
We all gathered round for a group photo taken by one of our members. The executive director of the Curbside operation just "happened" to be on hand and came running over, a big s___t-eating grin spread over his face. He offered to take the photo for us so that we could all be in the photo at once. We sent him packing.
It was the perfect end to a great event. We started the event by making one boss sweat. We ended it by telling another to get lost. What better way to celebrate International Workers Day?