Jimmy John's Resists Campaign to Reform Sick Day Policy with Illegal Firing of Six Workers
Submitted on Wed, 03/23/2011 - 12:38pm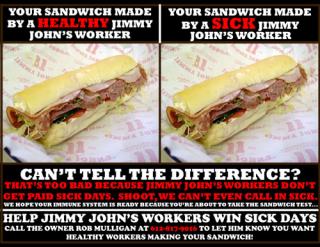 Sandwich Chain Seeks to Suppress Educational Poster on the Risks of Eating Food Prepared by Sick Employees
Jimmy John's Workers Union - Industrial Workers of the World
Contacts: Micah Buckley-Farlee, 612-845-9290 Mike Wilkow, 612-807-6633
March 23, 2011
MINNEAPOLIS- In an effort to silence employees who have blown the whistle on serious food safety hazards at Jimmy John's, the company fired six workers yesterday for putting up posters demanding the right to call in sick and paid sick days in order to avoid exposing customers to infection. Under current policy, Jimmy John's workers are disciplined for calling in sick if they cannot find a replacement, forcing many workers to make sandwiches while ill.
"It just isn't safe -- customers are getting their sandwiches made by people with the flu, and they have no idea," said Micah Buckley-Farlee, one of the fired workers, "and now we're getting fired for blowing the whistle on this disgusting practice. Rather than safeguard public health and do the right thing for their employees and their customers, Jimmy John's owners Mike and Rob Mulligan are trying to silence us. These illegal and offensive firings will not stand."
In addition to the threat of discipline for calling in sick, many workers are unable to afford to take a day off if they are ill because wages at the sandwich chain hover around the federal minimum of $7.25 and the company offers no benefits. The result of these pressures is that sandwich-makers often have to work while sick, creating an enormous public health risk. The issue of working while sick in restaurants has assumed increased concern from the public in recent years. A recent study performed by the Center for Infectious Disease Research and Policy shows a marked increase in workers unable to take sick leave noting that of the 793 employees surveyed 72% said they worked while they had severe flu symptoms.
The risky anti-union firings at Jimmy John's could easily backfire on the company. Firing workers in retaliation for organizing activity is expressly forbidden by the National Labor Relations Act. The IWW Jimmy John's Workers Union will file charges with the National Labor Relations Board today seeking reinstatement of all fired workers. The workers are hopeful that the NLRB will consider an injunction to reinstate the fired workers while litigation progresses. Regardless of the outcome of legal action, the union workers have announced that direct actions against the franchise, such as picketing, will continue to escalate until they have won the demand for paid sick days and all illegally fired workers are reinstated.
"All we want is for the owner Rob Mulligan to do the right thing,"
says Alyssa Rodewald, a Jimmy John's worker who was fired for calling in sick last week. "Spend your money giving us paid sick days and protecting customers, not spending legal fees in a hopeless attempt to justify your immoral actions".
The Jimmy Johns Workers Union, open to employees at the company nationwide, is affiliated with the Industrial Workers of the World labor union. Gaining prominence in recent years for organizing Starbucks workers, the IWW is a global union founded over a century ago for all working people.