Summer 2018 Industrial Worker
Submitted on Wed, 10/10/2018 - 8:39pm
The Summer 2018 Industrial Worker is finally out. It looks back at some pivotal events for the IWW and workers that have shaped the direction of the union, its members, its detractors, and its beneficiaries. The issue also examines current events that affect workers across the United States in both negative and positive ways.
In 1917, copper-mine workers organizing for parity in wages with the IWW's help endured the Bisbee Deportation (see Industrial Worker Summer 2017, #1780). One hundred and one years later comes the powerful film Bisbee '17, about 2017 Bisbee, Ariz., in which the community reenacts the atrocity and faces up to a very dark time in the city's history. The Summer 2018 issue of IW has a review of the film.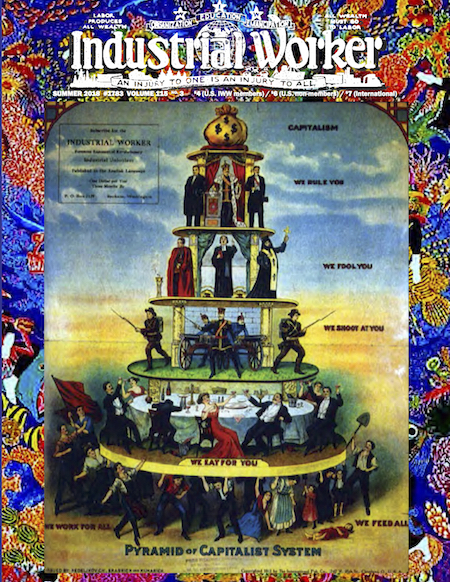 Writer Andy Piascik revisits the Lawrence textile strike of 1912, emphasizing that its success was due to two major factors: It was led primarily by women, who insisted that the strikers remain peaceful, without retaliating against massive military and police opposition; and IWW representatives went to Lawrence, Mass.—at the strikers' request—but rather than taking over the strike, as so many union leaders do, they advised the strikers in tactics but trusted them to follow their instincts.
It's 100 years since Eugene V. Debs was tried and imprisoned for treason and sedition for his speech in Canton, Ohio. And at least 100 Wobblies were rounded up and tried for treason and sedition, as well. Their "crime" was not supporting U.S. involvement in World War I—the Great War—and arguing against participation in it because it was a war between rulers vying for power and had nothing to do with workers and the people. Two short articles express sentiments that still apply today.
The Janus decision by the Supreme Court struck a blow to public-sector unions when it ruled that paying dues to the unions is no longer mandatory. However, there are two edges to the Janus sword. As a dual-cardholding Wobbly writes: "[W]ith the West Virginia Teachers Strike . . . the teachers were through with bosses and took up the model of solidarity. They used the power of the worker united."
Finally, an article full of facts and figures provides a stark picture of why teachers in the U.S. have fallen so far behind in their pay and benefits, making public education suffer from a shortage of good teachers: "Teachers and parents are protesting cutbacks in education spending and a squeeze on teacher pay that persist well into the economic recovery from the Great Recession. These spending cuts are not the result of weak state economies. Rather, state legislatures have enacted them to finance tax cuts for the wealthy and corporations." It's a bleak picture that can be improved only by forcing the powers that be into enacting legislation for the people and not the rich.
Download a free PDF of this issue.