Pizza Time Workers On Strike in Olympia, Washington
For Immediate Release - Pizza Time Workers, 9:20 AM - Feb 15, 2005.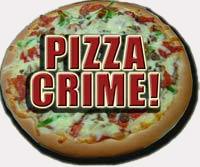 On Saturday, February 12, 2005, Pizza Time workers presented the new owner Shane Bloking a list of demands to improve working conditions. The owner refused to agree to all demands. Pizza Time workers walked off the job and went on strike. Since then, the Olympia community has shown overwhelming support for the strikers.
Pizza Time Workers on Strike In Olympia:
Workers at Olympia's downtown Pizza Time have decided they've had enough abuse from their new owner and went on strike. After a week of mismanagement, bad judgment and the firing of two competent employees, Pizza Time workers walked out and hoisted "Pizza Crime" signs and declared they are on strike on Saturday the night of February 12, 2005.
The Pizza Time Workers' Demands are:
1) Abara and John rehired. Jeff Bloking (the owner's brother) has to go.
2) No workers are fired without just cause and without warning
3) No more use of racial slurs
4) A friendly, clean and safe work environment
5) Standardized breaks
6) Respect our rights to unionize
Pizza Time workers have been joined by more than 30 community members who all walked the picket line on 4th and Jefferson. Supporters provided the strikers with hot cocoa, cider, and slices of Old School Pizza. Striking Pizza Time workers have also been greeted on the picket line with cheers and honks from people in cars, people enjoying the rock show at the Manium, window shoppers, and Olympia's Police officers and firefighters.
The picket was successful in informing the public and they have already had several radio interviews on two different stations.
On Sunday February 13th, all the workers at the striking Pizza Time signed red IWW membership cards, joining the Industrial Workers of the World (Wobblies).
News And Updates:
---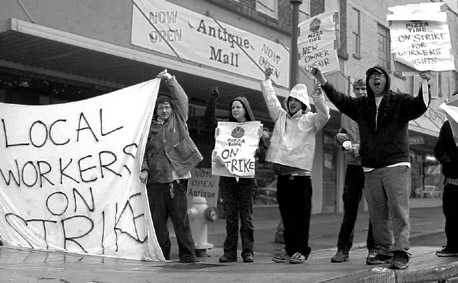 Pizza Time Workers on the Picket Line in Olympia, Washington