Cincinnati Wild Oats IWW Organizer Terminated
TAKE ACTION NOW!!!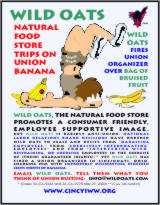 DEMAND TO WILD OATS MANANGEMENT - We, are concerned about the termination of Fellow Worker Tom Kappas' employment. We feel that it was an unfair termination, and ask that he be reinstated without prejudice.
We are concerned about arbitrary or confusing policies, and ask that a policy that can possibly lead to termination of employment be committed to writing.
We are all concerned about the the work environment, and have similar goals, along with management, for a functional and profitable business. We do not feel our concerns are unreasonable or detrimental to these goals, and ask that employees voicing their concerns do not experience retaliation.
Latest News: