Successful Strike Support Rally By NWA-AMFA Workers At SFO An Important First Step In Building Labor Solidarity
Submitted on Wed, 09/07/2005 - 3:08am
Disclaimer - The following article is reposted here because it is an issue with some relevance to the IWW. The views of the author do not necessarily agree with those of the IWW and vice versa.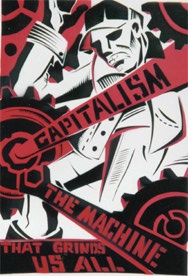 By Steve Zeltzer - September 5, 2005
NWA-AMFA striking mechanics were joined by hundreds of other other airline workers and other trade unionists at San Francisco International Airport on Labor Day 2005. Strike supporters including ILWU Local 10 president Trent Willis spoke at the rally and was joined with dozens of ILWU member from Local 10 and 34. Airline mechanics from American Airlines, United Airlines as well as flight attendants not only joined the rally but spoke in solidarity. Willis warned the rest of the labor movement that they should not fail to back the NWA mechanics because the same thing could happen to other unions. He also said that the unions had the power to shut the airport down and that might become a necessity.
JoAnne Kazemi, the SFO Base Representative of the Professional Flight Attendants Association PFAA which represents the thousands of NWA flight attendants reported that some strike supporters had been furloughed for supporting the picket line and that NWA was using scab flight attendants www.pfaa.com. She also said that NWA along was seeking to replace US based flight attendants on Asian flights with Asian flight attendents at lower standards and wages. This is already happened with the outsourcing of maintenance for NWA jets that are on routes to China. They will be serviced by non-union mechanics at wages substantially lower than US based wages. The issue of outsourcing was also raised by author and UAW-NWU 1981 Chair Jack Rasmus. Rasmus reported that over 8 million jobs have been outsourced in the last few years and many of these were good paying union jobs.
Claudet Begin, who is on the bargaining committee of the independent 17,000 member UC Union Coalition of University Employees reported that their union was working without a contract and she had won support for the NWA-AMFA strikers by her union and the coalition of unions at the University of California.
Most significantly, IAM strikers and union officials joined the rally in support. Janice Sisco, who is with IAM NWA COFPS Grievance Committee Chairperson spoke in solidarity and said that all units were threatened by the attack on the mechanics. She also said that she supported the action of the Healthrow workers in shutting down the airport in support of the Gourmet food supply workers who were out on strike.
Also joining the rally was striking IAM 1546 shop steward and mechanic Nat Courtney. Courtney reported that he and 13 other auto technicians had been on strike since June 13 when they were replaced by a new owner at Berkeley Honda. He said that after 31 years he thought he would be able to retire in a few years but the new owner had refused to rehire any of the union mechanics in an open violation of the law.
He joined in supporting the AMFA-IAM mechanics and said their struggle was the same.
AMFA District Council 9 President Joe Prisco declared that AMFA would back all picket lines as a matter of principle no matter what union was involved. He also read a letter of solidarity recently passed by their local that their members were in solidarity with striking Boeing IAM machinists and would refuse to repair any scab work sent to UAL by Boeing.
Absent at this important solidarity rally was the AFL-CIO and Change To Win leaders in the bay area. SF Labor Council Secretary-Treasurer Tim Paulson and Alameda Labor Council Secretary Treasurer Sharon Cornu as well as San Mateo Central Labor Council Secretary Treasurer Shelley Kessler were conspicuous by their absence. Also the Alameda Labor Council has formally endorsed the strike after ILWU Local 10 delegate Jack Heyman and UAW 2244 Delegate Carolyn Lund invited the AMFA-NWA to make a presentation at a labor council meeting. Wanting to avoid a fight at all costs, Cornu told delegates she had taken a poll of the Executive Committee and it had voted to support the strike.
The John Sweeney leadership on August 15, 2005 sent out a memo to every AFL-CIO affiliated labor council and state body that there could be no solidarity whatsoever with the AMFA-NWA striking workers. This is obviously not the sentiment of the workers themselves who see a defeat of AMFA as a defeat of their own conditions and living standards.
The participation of many workers from throughout the airline industry was an important sign that in fact the AMFA-NWA mechanics are not isolated from their brothers and sisters in the industry.
The rally was an important step forward for the newly formed Airport Workers Strike Support Committee. The committee which helped plan the march along with Local 9 will be meeting regularly and many airport workers and other unionists signed up to build support.
You can contact the committee by emailing Jennifer Biddle <[email protected]>