(Resolution) - Solidarity with Northwest Airlines Strikers
Submitted on Wed, 09/07/2005 - 3:16am
The following resolution was adopted by the Industrial Workers of the World General Assembly - September 4, 2005: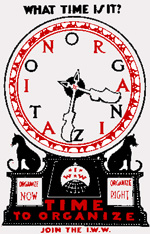 Northwest Airlines workers have been on strike since August 20, in a heroic fight against their employers' demands for concessions that would cost thousands of jobs, endanger public safety, and slash wages by 25 percent.
All workers in the air transport industry have a direct interest in turning back the airlines' insatiable demand for concessions, as do all workers in the United States who already suffer from declining wages and massive cuts to health care and other benefits.
However, the Northwest Airlines workers' struggle has been undercut by union scabbing by other Northwest unions, as well as scabbery by unionized air traffic controllers, catering staff and ground crews employed by other airlines and airports around the world but servicing Northwest flights.
The Industrial Workers of the World was formed 100 years ago to promote solidarity, rather than division, among workers.
Both the American Federation of Labor-Congress of Industrial Organizations and the unions grouped in the Change to Win Coalition include in their affiliated unions tens of thousands of workers directly engaged in the air transport industry. Far from calling upon those members to act in solidarity with the Northwest strikers, each has directed their members to actively break the strike by crossing picket lines, handling struck work and otherwise assisting the employers, and have interfered with efforts by affiliated locals to lend aid to their fellow workers at Northwest in their time of need.
In contrast, days before the Northwest strike began, workers at Heathrow Airport in London demonstrated genuine union principles when they shut down British Airways in solidarity with food service workers fired for defending their jobs. Their recognition that An Injury To One Is An Injury To All is the basis upon which the labor movement must be rebuilt.
The response to the Northwest strike demonstrates that the recent split in the AFL-CIO, in which the members had no say, was not about building workers' solidarity and industrial power.
The Industrial Workers of the World, gathered at its 2005 General Assembly in Philadelphia, urges its branches and members – and air transport workers throughout the world – to do all in their power to assist the striking Northwest Airlines workers, including by reinforcing picket lines and refusing to work Northwest airplanes.
The General Assembly further directs the General Secretary-Treasurer to promptly convey to the Aircraft Mechanics Fraternal Association our solidarity in this struggle.