Pittsburgh Workers Escalate Protest Against Starbucks' Union-Busting
Submitted on Thu, 12/07/2006 - 1:27pm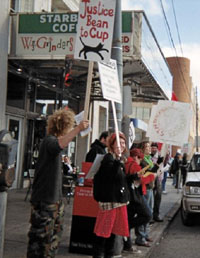 PITTSBURGH, PA—A vocal group of workers and supporters of the Starbucks Union of the Industrial Workers of the World (IWW) again protested in Pittsburgh against Starbucks Coffee Co.'s anti-union activity.
This time the Union raised its picket line on December 2 in Bloomfield, a working class neighborhood known for its strong union heritage and as a close-knit community of local independent retailers. The IWW is demanding an end to the mistreatment and firings of workers who engage in union organizing at the world's largest and most profitable retail coffee chain.
Despite planting numerous stores in several Pittsburgh neighborhoods, Starbucks is a corporate outsider based in Seattle, Washington and joins the ranks of too many low-wage employers throughout the city.

For nearly two hours on a sunny but frigid Saturday afternoon, workers carried picket signs, banners, and the ever-present red IWW flag as they chanted in front of the Bloomfield Starbucks on Liberty Ave. However, before the picket started the IWW serenaded fellow workers and customers inside the store with a resounding rendition of "Solidarity Forever," the classic American labor anthem written by the Wobblies in 1915. But on this day the union sang a new verse written for coffee industry workers:

It is we who pick the coffee, ship it here and roast it brown.
Then we brew it and we froth it up for folks to drink it down.
Instead of bloating profits, lift baristas in our town.
For the Union makes us strong.

As expected, Starbucks again brought in high-level managers on a weekend to salvage the corporation's public relations inspired "warm and feel-good" image. Mangers, not regular employees, handed out free coffee samples to passers-by on the street, but this only gave picketers a chance to talk to customers as they stopped to see what was going on. It was also a chance for the Union to sign up "Friend of Labor" supporters who pledge support for the Union and to "strike" against Starbucks as consumers. One concerned customer not only promised to boycott Starbucks until it stops union-busting, but she also said, "My niece was considering applying at Starbucks, but I'm going to tell her about how they treat their employees. I don't want her to put up with Starbucks' disgusting behavior. No way!"

By all accounts, the IWW was very successful in seizing the opportunity to inform the Bloomfield community about Starbucks' anti-worker behavior. Dozens of IWW flyers were distributed and many motorists on Liberty Ave. honked and gave thumbs-up for their support of the Starbucks Union. As is typical of IWW events, the protest was designed to be lively, spirited, and free from violence. However, the Union noted that an unidentified and uninvited man briefly showed up with a derogatory sign stating, "God hates Starbucks and [homosexuals]." Wobblies quickly confronted the man and voiced outrage at his message. When asked whom he worked for, he said "Starbucks." "We don't know who this person is," said IWW organizer Kevin Farkas, "But the IWW does not tolerate discrimination of any kind. I asked the Starbucks managers who were there to join the IWW in publicly condemning such expressions of hate and repression."

Another IWW protester went on to say that as the demonstration gathered energy there was a subtle but very real repressive vibe about the day. "An unidentified man was filming us from across the street," she said. "Unfortunately, corporate surveillance is all too common at these protests. It's a form of intimidation used to dissuade workers against going public in support of the union. But we'd like to believe that Starbucks didn't have anything to do with planting that hateful man on our picket line. For whatever reason he was there, it seemed that he was only interested in a quick photo-op and then he was gone."

IWW member Lisa Stolarski stated that workers will keep its focus on why the Union is protesting Starbucks—to stop anti-union behavior and reinstate the six pro-union Starbucks workers fired for exercising their legal right to organize. "The corporate world is watching Starbucks right now," said Stolarski. "If Starbucks gets away with illegally firing workers for organizing activity, then this behavior sets a precedent for chain corporations worldwide. It is essential that every worker and every unionist stand up for the Starbucks Six, because in defending the baristas' right to organize we defend the foundation of unionism."

The National Labor Relations Board is investigating these firings and is not expected to have a ruling until sometime next year. However, in March 2006 the IWW charged Starbucks with unfair labor practices and the NLRB reached a settlement with Starbucks directing the company to change its policies toward union organizing. The March 2006 NLRB settlement reinstated two workers active with the union movement and forced Starbucks to pay roughly $2,000 in back pay to three employees and change discriminatory policies, including the workers' right to wear union buttons (which Starbucks had denied them) and to distribute union materials in the workplace. Starbucks also promised not to provide employees with benefits, including after-hours store cleaning services, free pizza, free gym passes, and free baseball tickets, in order to encourage employees to withdraw support for the union.

The Pittsburgh Starbucks Union, along with its growing ranks of supporters, has future protests planned against Starbucks. The next local day of action will be Saturday, December 16, 2006.

To learn more about the Starbucks Union and how you can join the IWW or become a Friend of Labor supporter, email PghStarbucksUnion [at] yahoo.com and visit www.StarbucksUnion.org.