NYC's immigrant food warehouse workers unionize with IWW - Not Without a Fight: NYC's food warehouse workers unionize
Submitted on Sun, 01/28/2007 - 2:33pm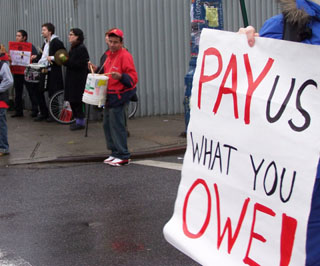 By Diane Krauthamer and David Graeber
The last year, however, has witnessed something of a social miracle. Immigrant workers in five different warehouses, long bypassed by mainstream organizing drives, began organizing themselves under the banner of the IWW—the famous Industrial Workers of the World, or Wobblies—and achieving immediate and dramatic improvements in shop-floor conditions. Within the last few months, bosses have begun a major counteroffensive, breaking contracts and engaging in illegal mass firings of anyone engaged in union activities. Mexican and Chinese immigrant workers are standing their ground and with the support of the rest of the New York IWW, battling back in the name of solidarity and dignity of labor.

The battle promises to be intense but the stakes are, potentially, historic. The struggle marks the confluence of two historic trends. On the one hand, the startling reemergence of the Wobblies themselves, a union that even a few years ago most labor historians had relegated to the dustbin of history. The IWW of course were, in their heyday in the days of Joe Hill and Big Bill Haywood, the first union in the
US willing to work with Mexican and Chinese immigrants when others were systematically excluding them, which makes these new developments all the more significant. On the other hand, the growing right-wing backlash against immigrant laborers across America, the most vulnerable and exploited of our labor force, and their brave and defiant mobilizations against it.

Unionizing for a better life

There are currently five companies where workers initiated unionizing efforts: Amersino Marketing Group, Sunrise Plus Corp. (formerly EZ-Supply Corp.), Handyfat Trading, Inc., Giant Big Apple Beer Ltd. and Top City Produce.

Before unionizing, Amersino employees in Queens and Brooklyn often worked in excess of 65 hours a week and received $300 to $350 for their labor, sometimes even less. Just down the road at Sunrise Plus, workers complained about long hours with no overtime pay, which amounted to less than minimum wage. Top City workers consistently pulled 72-hour weeks with no overtime and no benefits. At both Handyfat and Giant Big Apple Beer, employers subjected their workers to similar, systematic minimum wage and overtime abuses. Fed up with mistreatment, the workers found allies in the community and in the workforce to help them launch a campaign to reassert their basic rights.

In June 2005, Amersino employees filed a complaint with the U.S. Department of Labor (DOL) over the company's wage and hour violations. Owner Yu Q "Henry" Wang illegally withheld hundreds of thousands of dollars in wages from these warehouse workers. In the following months, they had to deal with continuous abuse from their boss, owner Yu Q "Henry" Wang, while the DOL dragged its heels on the complaint. But with the help of the Brooklyn-based community center Make the Road by Walking / Se Hace el Camino al Andar, they retained a private lawyer to file new charges in federal court. On March 20, 2006, approximately 20 workers joined the IWW. With full union backing, they were in for the long haul.

In January 2006, Handyfat workers banned together and drafted an agreement with owner Dennis Ho—outlining basic wage and overtime stipulations as well as a grievance procedure.

After workers at Sunrise Plus joined with the IWW in February 2006, they put pressure on the company to meet at the negotiating table. For months, the IWW brought more and more heat onto the company through pickets and increased union presence, but owner Lester Wen refused to bargain in good faith. In response, the union strategically appealed to restaurant customers of Sunrise Plus throughout the area to purchase their supplies through other wholesale companies.

On December 18, 2006, IWW members from Handyfat, Sunrise Plus and Starbucks, along with Students for a Democratic Society (SDS), joined Top City workers in a picket to demand that the boss recognize the union and agree to pay minimum wage. The boss agreed to pay back wages and to engage in further discussion, to avert a pending second strike scheduled for the next day.

Giant Big Apple Beer employees filed a wage and hour complaint with the U.S. Department of Labor in 2006. The DOL again failed to act while the company continued to violate state and federal wage laws.

Workers consulted NYC labor attorney Stuart Lichten, who represented members of the Starbucks Workers Union in last year's National Labor Relations Board (NLRB) settlement, and on December 26, 2006, they filed a class action lawsuit against the company on behalf of all present and former employees.

The bosses retaliate

With the situation heating up at other shops, Amersino owner Henry Wang responded to workers' unionizing efforts with threats and firings.

On March 20, 2006, union workers confronted Wang, prompting him to concede to their demands by reinstating two fired workers and agreeing to give them a fair wage and decent hours. Over the following days, however, he fired two more workers and refused to talk to IWW representatives. Workers marched on the plant again on March 25, and Wang, realizing that his employees were threatening to strike, reinstated two fired workers and agreed to start paying the minimum wage. Yet throughout April, he threatened to fire more union workers, close the warehouse, and even bribed employees to vote against the union in the coming NLRB election. Wang then brought in outside managers and staff from other facilities to vote in the NLRB
election against the IWW on April 28, and challenged the votes of union supporters by claiming that they did not work at Amersino.

The next day, two union leaders were suspended. No cause was given. Workers walked out in solidarity with suspended union members, declaring that they would not return until the two returned. Wang immediately brought in scabs, and locked out all union workers. A May Day picket followed, and by May 2, the workers returned, although the five who were fired were not allowed back.

At Sunrise Plus in late November 2006, owner Lester Wen met workers at the negotiating table and agreed to a tentative contract with the union, meaning increasing the wage by $2.45 per hour, creating a grievance procedure, giving workers paid vacation and sick days, refraining from discriminating against workers based on their immigration status, and purging workers' disciplinary records. But then on December 26, Wen reneged on the tentative contract agreement and began making threats to workers regarding their immigration status. Such threats increased as workers redoubled efforts to win recognition of their rights on the job.

On the morning of December 28, the IWW served Sunrise Plus with a federal complaint regarding back wages and overtime and within hours, Wen fired 13 of the company's unionized workers. In solidarity with those who were fired, workers walked off the job in a wildcat strike and only returned after the union assured them that legal action would be taken. Similar illegal terminations followed days later at
Handyfat. The owner, Dennis Ho, demanded that workers submit their Employment Eligibility Verification form (I-9 Form) to prove that they are legally entitled to work in the U.S. Soon after, management fired nine workers in retaliation for their recent unionizing efforts. While told it was because they failed to submit their I-9 Forms, one worker who tried to submit his form was not even allowed to do so by management, who turned him away. Further, by law and regardless of immigration status, workers in the United States must be paid the minimum wage and have a right to organize. These terminations were just one more step in a clear-cut union-busting strategy.

The firings come shortly after Top City hired a new attorney, Alfred T. DeMaria, known is labor circles as one of the most notorious union-busting lawyers in New York. According to his firm's website, DeMaria is "in the field of combating union organizational campaigns," and he has published at least four books and designed courses for companies on how to maintain a union-free workplace. If nothing else, organizers report, there is a new level of coordination going on between employers: the letters demanding workers submit their I-9 forms used by each firm were exactly identical.

The fight continues

Despite the best efforts of bosses to crush the union, workers remain committed to the struggle. Hundreds of workers and their supporters marched and picketed at Amersino, Sunrise Plus and Handyfat throughout December 2006 and January 2007 to demand unpaid wages and overtime from their boss, and to highlight a civil suit that they will file in federal court with the help of the IWW. With the external union support and a presence of student and community groups, three large demonstrations and ongoing picketing and leafleting highlight the growing strength of the campaign. Though no doubt there will be many more pickets on many more frigid mornings, workers are not backing down from the companies' attempts to repress a movement towards basic wage and hour rights. Instead they are beginning to turn their campaign into part of a much broader national mobilization for the rights of dignity not only of immigrants everywhere, but all those who make our society possible, but who we are not supposed to know exist.

If you would like to support the campaign, please send financial contributions to New York Industrial Workers of the World, P.O. Box 8266, J.A.F. Station, New York, NY 10116. Or, you can contribute on-line through PayPal by making a payment to [email protected], at www.paypal.com. You can also sign up on PayPal for a monthly, automatic payment in any amount that's manageable for you.

For more information, please visit www.wobblycity.org, or email [email protected] com.