Circuit City faces (IWW) protest and lots of red ink
Submitted on Wed, 05/02/2007 - 3:30pm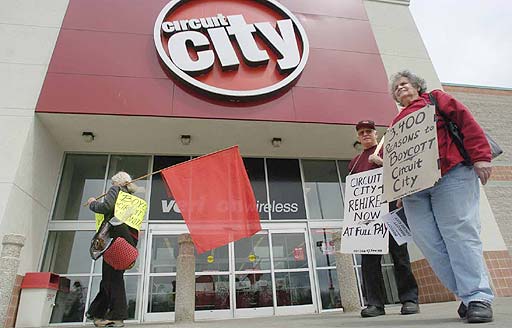 By ALAN WECHSLER, Business writer (Photo by Paul Buckowski) - Albany Times Union, May 2, 2007
ALBANY -- As Circuit City Stores Inc. Tuesday projected it will post a first-quarter loss of as much as $90 million, it wasn't getting much sympathy from protesters in front of its local store.

They were members of the Industrial Workers of the World union, and on Tuesday they were protesting Circuit's firing of 3,400 employees around the country. The company had dismissed the higher-paid workers in March, replacing them with lower-paid new hires as part of a cost-cutting plan.

"It's the most incredibly outrageous act by a corporation today," said Paul Poulos of Hartwick, who was passing out fliers that read "Boycott Circuit City."

Circuit City has offered to hire back the workers after a 10-week "cooling-off" period, but at reduced pay.

"It's an unprecedented way to trim costs," said Greg Giorgio, an OTB channel announcer from Altamont who also produces a labor show on WRPI. He held up a sign that said "Circuit City -- Ultimate Corporate Greed."

The manager of the Crossgates Commons store declined to comment, except to say that the protesters -- standing on the sidewalk in front of the store -- were not on store property. A spokesman at the Richmond, Va.-based company also declined to comment.

Circuit City officials say the layoffs were part of the company's attempt to save money in light of worse-than-expected earnings due to poor sales of large-screen televisions.

It now expects a loss from continuing operations before income taxes of $80 million to $90 million for the first quarter of its 2008 fiscal year. The company has also said it is closing seven domestic stores, a Kentucky distribution center and 62 company-owned stores.

Circuit City has long struggled for market share against Best Buy Co., and analysts have said each of Best Buy's locations bring in about twice as much revenue as its smaller rival. Both have seen fierce competition from Wal-Mart Stores Inc.

In a research note Monday, analysts at Stifel, Nicolaus & Co. said Best Buy, the nation's No. 1 electronics retailer, has "significant competitive advantages" and is "well positioned to take business from both Circuit City's operational changes and closed Tweeter and CompUSA stores."

Tweeter Home Entertainment Group Inc. said last month that it is closing 49 of its 153 stores and laying off about 650 workers.