Starbucks store accused of blocking union
Submitted on Wed, 10/03/2007 - 3:40am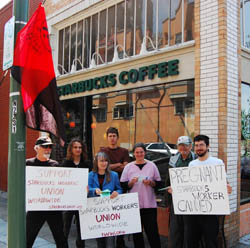 By Chris Knape - Friday, September 28, 2007, The Grand Rapids Press
EAST GRAND RAPIDS -- The National Labor Relations Board is expected to decide by today if it will file charges against a Starbucks in Gaslight Village over allegations it violated employee rights to organize a union.
The NLRB is waiting to see if the coffee giant is willing to settle the charges, which included allegedly restricting the distribution of organizing materials and threatening to fire employees involved in unionizing efforts.
"Unless the matter is settled in the next day or two, we'll take further action," said Stephen Glasser, director of the NLRB's Region 7.
The complaints stem from efforts by Starbucks barista Cole Dorsey to use an in-store bulletin board to post union-related materials.
Starbucks officials did not respond to calls from The Press.
In a recent BusinessWeek article on NLRB complaints, a spokesman said: "Starbucks respects the free choice of our partners and strictly complies with the laws and guidelines associated with labor organizing activities. Starbucks is recognized as a best place to work because we have made treating our partners with respect and dignity our number one guiding principle."
The local allegations are similar to those brought by Starbucks workers and the NLRB in New York City, where a court case is ongoing.
"This is just more of the same for a company that is very hypocritical," said Daniel Gross, a union organizer in New York.
"This company talks about being pro-partner, not anti-union. The reality is this company is a poverty wage employer whose workers are making $6-$7-$8 an hour."
Dorsey declined to say how many local people consider themselves part of the Starbucks Workers Union due to fear of retaliation.
The union is not an officially recognized bargaining unit at the store, but Glasser said that doesn't matter because the charges stem from efforts to organize a union.
Dorsey, who said he make $7.93 an hour, wants Starbucks to live up to its statements about treating employees and coffee growers fairly.
His hope is for a starting wage of $8.50 with more regularly scheduled hours.
So, why not just quit and try to land another job where wages and the environment might be more to his liking?
"There's not jobs everywhere for everyone," he said.
"They should pay baristas and coffee farmers more than poverty wages. It's very easy for someone with a job to say, 'Go, and find a job.' "