Starbucks-Licensee Threatens IWW With Frivolous Lawsuit
Submitted on Mon, 11/19/2007 - 1:44pm
For Immediate Release:
IWW Starbucks Workers Union - November 15, 2007
Contact: [email protected]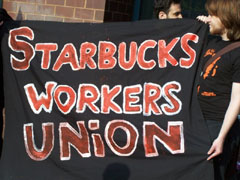 Statement of Starbucks Workers Union Followed by Legal Threat Letter from HMS Host:
"Starbucks should be ashamed that HMS Host, the operator of 150 Starbucks stores, is threatening frivolous litigation against the Industrial Workers of the World to stifle First Amendment activity. This type of anti-worker conduct is among the factors contributing to the decline of the Starbucks brand and attendant earnings woes. The IWW Starbucks Workers Union will not be deterred by a baseless lawsuit and we look forward to carrying out our communications initiative at Pennsylvania's HMS-operated Starbucks stores this Black Friday. We call on Chairman Howard Schultz and Starbucks to insist that HMSHost immediately rescind its anti-speech legal threat."
Starbucks-Licensee Legal Threat Letter
November 13, 2007 Via Regular Mail and E-Mail Kenneth Miller 7125 Thomas Blvd. Pittsburgh, PA 15208 RE: Starbucks on the Pennsylvania Turnpike and IWW's intention to picket and Request that Customers Boycott Starbucks products Dear Mr. Miller: This is a follow up letter to one that had previously been sent to you by Christopher Townsend
from HMSHost Corporation. Your communications to the Pennsylvania Turnpike Commission and your letter to HMSHost clearly set for the union's dispute with Starbucks Corporation and your organizational campaign drive against Starbucks. As stated in Mr. Townsend's letter, and as you have also been informed by the Turnpike Commission, Host is a tenant at the Turnpike that has a franchise agreement with Starbucks to operate stores on the Pennsylvania Turnpike.
Your contemplated picketing and boycott activity of Host's Starbucks stores on the Turnpike constitutes illegal secondary activity and a violation of Section 8 (b) (4) (ii) (B) of the National Labor Relations Act. The Commission has also advised the union that its conduct and continued communications with it asking it to boycott Starbucks products and business from the Turnpike could support a claim for tortuous contractual interference.
Please be advised that Host will take all necessary action to protect its business interests and should any picketing and boycott activity occur as contemplated that Host will seek legal recourse to protect its rights, including seeking the recover of damages that will occur because of the union's unlawful conduct. Historically, Hosts' stores on the Turnpike do very well over the Thanksgiving Holiday. Therefore, Host will seek all lost revenues and costs associated with bringing such action from the union because of its unlawful secondary activity. Should you have any further questions, please feel free to contact me directly.
Sincerely, Mary Helen Medina