Police disperse striking truckers after vandalism at port
Submitted on Thu, 05/08/2008 - 3:59am
Disclaimer: The action described here was not organized by the IWW.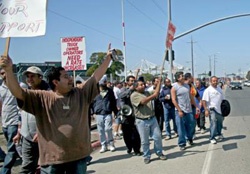 By Francine Brevetti - staff writer, inside bayarea.com, May 6, 2008
OAKLAND — About 80 striking truckers from Middle Harbor Road at the Port of Oakland were ticketed and dispersed Tuesday after some of them committed vandalism, police said.

Some drivers had damaged a truck's window while the driver was operating the rig, Sgt. Peter Lau said.

Nevertheless, the protesting truck drivers who own and operate their own rigs vowed to continue demonstrating at the port for the rest of the week. They say motor carrier firms have been underpaying them for diesel fuel.

"No Stopping Anytime" signs are posted along Middle Harbor Road. But on Tuesday the port's main artery was lined with protesters' automobiles and some truck cabs.

"Yesterday (Monday) was peaceful," Lau said. "There were agreements among the officers here that we would let them (the strikers) use their First Amendment rights. However, the port's traffic was not going to be obstructed and people were not being hurt."

Now that is all changed.

Police will be there in force for the rest of the week, and will enforce the area's parking rules, Lau said.

The crowd on Tuesday was highly agitated. At one point, five police officers surrounded and detained a man driving a station wagon, then ordered him to depart.

The crowd then became extremely vocal. Several strikers said police should support them, not oppose them.

Driver Kibraab Weldaad was among those who said the motor carrier firms -- which act as brokers between shipping lines and customers -- have not been reimbursing drivers for the rising cost of diesel fuel, as stipulated in an agreement struck four years ago.

"It costs me $700 to fill up the truck," he said. "In a week it cost me $1,200 because I only get 7 miles to a gallon."

Jerry Philips, a partner of Impact Transload & Rail, said his firm and the other major motor carrier companies serving the Port of Oakland pay drivers fairly. This week's unrest was organized, according to him, by truckers from the Central Valley who serve railroad carriers.

Traffic at the port has slowed considerably, Philips said.

"We are at a dead standstill," he said. "A few drivers managed to get some stuff out before picketers showed up."

Port officials said they would not know the impact of Tuesday's disturbance on traffic until today.