Faced With Snowballing Legal Woes, Starbucks Settles Case Over Lawyer's Illegal Interrogations of Union Workers
Submitted on Wed, 01/07/2009 - 4:39am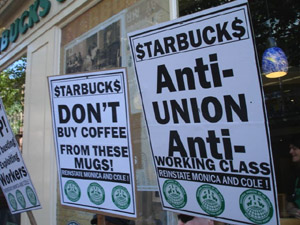 For Immediate Release:
Starbucks Workers Union (Industrial Workers of the World)
Contact: Cole Dorsey- organizer IWW Starbucks Workers Union,
616-540-0243
Faced With Snowballing Legal Woes, Starbucks Settles Case Over Lawyer's Illegal Interrogations of Union Workers
First Labor Board Settlement to Disallow Repeat-Offender Starbucks From Denying Guilt
Grand Rapids, MI (Jan. 5, 2009)- Just days after Starbucks suffered a decisive defeat in a lengthy Labor Board trial in New York, the embattled coffee giant has settled a complaint from the National Labor Relations Board here over the unlawful interrogation of baristas by a company lawyer.  The Board investigation was triggered by charges from the IWW Starbucks Workers Union that alleged one of the company's anti-union law firms, Varnum, Riddering, Schimdt, and Howlett, illegally interrogated baristas set to give testimony in a Michigan Occupational Safety and Health Administration hearing.  In addition to revealing law-breaking from Starbucks' counsel, the settlement is significant as the first where the Labor Board did not allow Starbucks to deny guilt--a sanction for repeatedly violating the rights of baristas seeking secure work hours, a living wage, and respect on the job. The company is still set to stand trial on Wednesday in Grand Rapids on a separate count of illegally firing outspoken union barista, Cole Dorsey.
"The union is very pleased the Labor Board agreed that Starbucks' repeated violation of workers' rights precluded it from obtaining a non-admissions clause," said Dorsey.  "As the economy continues to tank because of corporate wrongdoing, it's all the more critical that companies like Starbucks respect the right of working people to stand together and make their voice heard."
In three previous settlements over conduct in Grand Rapids, the Twin Cities, and New York, the company pledged not to interfere with the organizing rights of its employees.  Last week, a judge in New York found Starbucks guilty of extensive violations of workers' rights including firing pro-union workers, interfering with union communications, and discriminating against union supporters.
"I know how important union membership is to hold Starbucks accountable for its misconduct.   Like it or not, Howard Schultz has to accept that baristas are organizing to create quality jobs at Starbucks," said Dorsey.
The IWW Starbucks Workers Union is a grassroots organization of almost 300 current and former employees at the world's largest coffee chain united for secure work hours and a living wage. The union has members throughout the United States fighting for systemic improvements at the company and remedying individual grievances with management.  The SWU has been especially active in New York City, Chicago, Grand Rapids, and the Twin Cities.