Starbucks Settles ULP Charges Over Firing At Michigan Store, But Union Refuses to Sign
Submitted on Thu, 02/05/2009 - 5:00pm
Disclaimer - The opinions of the author do not necessarily match those of the IWW. The image pictured to the right did not appear in the original article, we have added it here to provide a visual perspective. This article is reposted in accordance to Fair Use guidelines.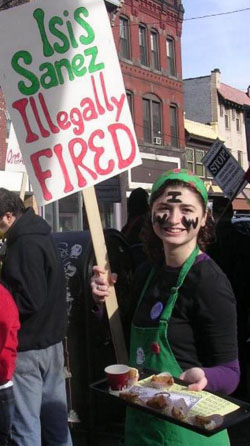 A National Labor Relations Board regional director in Detroit Jan. 16 approved a settlement agreement with Starbucks Corp. resolving allegations of unfair labor practices by the Starbucks Workers Union (SWU), an affiliate of the Industrial Workers of the World (IWW), filed with NLRB Region 7 (Starbucks Corp. d/b/a Starbucks Coffee Co., N.L.R.B. Reg. Dir., No. 7-CA-51190, settlement approved 1/16/09).
The NLRB regional office in Detroit had found sufficient evidence to establish an employer violation of the National Labor Relations Act at a Starbucks store in Grand Rapids, Mich., according to Stephen Glasser, NLRB regional director for Region 7.
The Grand Rapids Starbucks Workers Union (SWU) filed several charges April 15, one of which NLRB found to be a possible violation of the act. On behalf of fired worker Cole Dorsey, SWU claimed Starbucks illegally fired a worker who had been involved in union activities.
Glasser said NLRB concluded there was sufficient evidence to establish Dorsey was fired for his union activities and support for the union. "We thought we could prove that," he told BNA Jan. 9. Starbucks had said it fired Dorsey for attendance issues, Glasser said.
Reinstatement Not Required.
Under the settlement, reached one day before a trial was to be held, Starbucks will expunge record of the termination from the employee's personnel file and will post a notice for 60 days at the Grand Rapids, Mich., store outlining employees' rights under the NLRA.
Under the settlement, Starbucks is not required to reinstate the employee or issue back pay. Although the union had sought Dorsey's reinstatement, NLRB determined that it would not be appropriate, Glasser said.
NLRB would not agree to allow a denial of company wrongdoing in the settlement, but that does not mean Starbucks admits to wrongdoing, Glasser told BNA Jan. 21.
The union issued a statement Jan. 13 saying it is pleased the board found that ?Starbucks violated federal labor law by firing? Dorsey. However, "since the SWU prefers open trials to settlements and because Mr. Dorsey was not awarded the full array of remedies we believe he is entitled to, the union will not be joining the agreement between Starbucks and the NLRB."
SWU said Dorsey is "an outspoken union member working with his co-workers to achieve secure work hours and fairness on the job."
Glasser approved the settlement without a signature of a union representative after the union declined to sign the settlement.
The union does not intend to appeal the settlement to the NLRB office in Washington, D.C., Daniel Gross, an IWW organizer and former Starbucks employee, said Jan. 21.
Among the charges SWU filed in April, the union also claimed Starbucks had violated an earlier settlement agreement of unfair labor practice charges reached in October 2007 (195 DLR A-5, 10/10/07). In that settlement agreement, the employer said it will not interrogate employees about union activities or restrain, coerce, or interfere with employee rights under the NLRA.
Dorsey told BNA Jan. 9 that if the case had gone to trial, the union would have been able to raise other issues as evidence. Dorsey maintained that he was fired for filing a safety report with the Michigan Occupational Safety and Health Administration about employees' hazardous mold concerns as the result of an air conditioner leak at the store. Dorsey said Starbucks lawyers had interrogated him about a meeting with MIOSHA.
In a Jan. 21 statement, Starbucks said, "We feel vindicated as the agreement does not require reinstatement of or back pay to a partner whose termination we believe was appropriate."
Earlier Developments.
The settlement in Grand Rapids is the latest incident involving SWU claims of anti-union practices at Starbucks.
In December, an NLRB administrative law judge found Starbucks had violated workers' rights by restricting activity on behalf of SWU and by firing three workers because of their support for the labor organization (249 DLR A-1, 12/30/08). Gross was one of the three workers the ALJ found was fired for his union support.
In October, Starbucks settled NLRB charges of unfair labor practices by reinstating an employee in Minneapolis, providing back pay, and removing record of the discipline from his personnel records (195 DLR A-9, 10/8/08). The alleged unfair labor practice allegations in Minneapolis that NLRB determined to be meritorious were related to concerted, protected activities, but not to union activities.
In March 2006, Starbucks and IWW Industrial Union 660 reached a settlement in New York of unfair labor practice charges alleging that two workers were discharged for engaging in protected union activity (47 DLR A-2, 3/10/06).
© 2009, The Bureau of National Affairs, Inc.