IWW Member Laid Off By Starbucks After Confronting CEO and Blogging About It - IWW Immediately Hits Starbucks with Legal Action
Submitted on Fri, 03/20/2009 - 4:35pm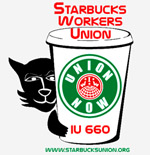 Chicago, IL (03-19-2009)- The Starbucks Coffee Co. informed outspoken union member and barista, Joe Tessone, yesterday that it was laying him off, just two weeks after he confronted CEO Howard Schultz over the company's squeezing of employees.  Mr. Tessone's blog post on the encounter entitled, "Howard the Coward: The Day My Boss Ran Away" quickly became an Internet hit among fast food workers and their supporters (online at:
http://www.iww.org/node/4618)
.
"When I heard Howard Schultz was in town, I knew had to get to the store and make my voice heard as a barista and union member," said Tessone, a 4-year veteran of the company with an excellent performance record. "He said he'd speak to me after his interview with the Wall Street Journal only to scurry through the emergency exit the first chance he got.  I told Schultz that it was time to dialogue with union baristas and that too many of us we're living in poverty but he showed nothing but cowardice."
Shortly after his exchange with Schultz, Tessone was ordered into a one-on-one meeting with a Starbucks Regional Director rather than the store manager who would normally administer discipline.  The director warned Tessone that he was out of compliance with Starbucks' new "Optimal Scheduling" policy which pries open baristas' availability to work without guaranteeing any work hours.  The problem with the director's rationale: Tessone's availability was indeed in complete compliance with Optimal Scheduling requirements which are laid out in a written policy.  The same rationale was erroneously deployed by Tessone's store manager yesterday when he was laid off.
"Starbucks' claim that I was out of compliance with the policy is a fantasy; I actually exceeded its requirements," explained Tessone.  "I come to work on time and work hard everyday. It?s clear that my attempt to speak with Starbucks' anti-union CEO and the escalation of union activity at the company is what caused my termination."
This isn't the first time that Howard Schultz lacked the fortitude to discuss Starbucks' animosity toward labor unions and its refusal to provide stable work hours to employees.  In a remarkably similar situation in 2004, Schultz hurried out of a New York City Starbucks after union barista Daniel Gross challenged him to sit down at a table and talk face-to-face.
In addition to Tessone's firing, the Industrial Workers of the World is currently challenging several unlawful responses by Starbucks to the increase in action by the union in Chicago.  These charges include allegations that Starbucks increased surveillance against baristas at a Chicago store to which the union recently expanded and illegally laid off barista Tracey Dietrich.  The IWW Starbucks Workers Union has thus far defeated the coffee giant in six labor cases across three cities.
"We will continue to ensure our members are protected," says Chrissy Cogswell, a Starbucks barista in Chicago and a union organizer. "Every time the company violates workers' rights, we will seek justice."
The IWW Starbucks Workers Union (StarbucksUnion.org) is an organization of almost 300 current and former Starbucks employees united for a living wage, secure work hours, and respect on the job.  Founded in 2004, the union uses direct action, litigation, and advocacy to both make systemic improvements at Starbucks and take on the company over unfair treatment of individual baristas.
Open to all working people, the Industrial Workers of the World (iww.org) is a member-operated labor union dedicated to democracy in the workplace and global solidarity.
###
Daniel Gross
Organizer
IWW Starbucks Workers Union
Ph:(917) 577-1110
Fx:(917) 591-6128