False Advertising? MPG Lays Off Workers While Profits Grow
Submitted on Fri, 06/19/2009 - 11:42am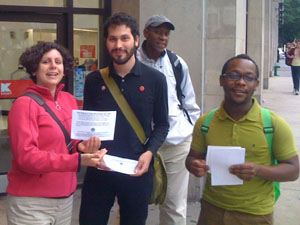 By Diane Krauthamer
On Wednesday, June 17, members of the New York City IWW protested against the callous layoffs at Havas' Media Planning Group (MPG), a multimillion dollar media agency whose clients include some of the largest corporations in the world.
MPG recently cut 11 percent of its staff, primarily at its headquarters in New York. But the media giant did not anticipate that one of its former employees, Joseph Sanchez, would publicize their anti-worker practices.
"This extremely profitable corporation laid me off just to put extra money in their pockets," said Sanchez, who worked in the client accounting department. "Instead of making a living wage, I'm surviving off unemployment benefits and food stamps."
Nearly a dozen IWW members handed out leaflets at a Kmart store in Astor Place in the Village, in an attempt to encourage Kmart to stop advertising with MPG until a fair severance package is negotiated. Sears Holdings— the parent company of both Kmart and Sears, and one of MPG's biggest clients—spent $590 million on ads in 2008.
MPG laid off approximately 50 of its 460 employees in New York, Boston and Chicago on April Fool's Day. The company said that it needed to free up resources to support growth. According to a report in Media Buyer Planner, CEO for MPG-North American, Shaun Holliday, said the "reductions are not about 'shrinking the business into a more profitable core—on the contrary, they are about finding and fueling growth.'"
In 2008, MPG's parent company, Havas—the sixth largest communications group worldwide—increased profits by 25 percent. In January 2009, Virgin Mobile agreed to use MPG as its media planning and buying agent. Virgin spends approximately $15-20 million per year on advertising. In February 2009, the recently- formed CBS Films, which plans to spend upwards of $100 million per year on advertising, agreed to use MPG as its media planning and buying account.
Despite the company's wealth, MPG only gave workers a four-week severance package, which Sanchez says is simply "not enough time to find a new job."
When Sanchez and his fellow workers were laid off, MPG also required that they sign an "Agreement of Separation & Release" in order to receive their severance pay. Included in this statement was the stipulation that the former employees would not "in any way denigrate any aspect of the company," yet the agreement made no mention of the company not denigrating any aspect of the employee.
Now former employees are demanding the pay that they are owed, and the IWW is asking Kmart to stop advertising with MPG until they negotiate a fair severance agreement. For more information, please visit
http://www.wobblycity.org
or email
[email protected]