IWW Pickets disrupt construction at Jimmy Johns store
Submitted on Mon, 09/13/2010 - 2:58am
Staff Report - WorkDay Minnesota, Monday 13th September 2010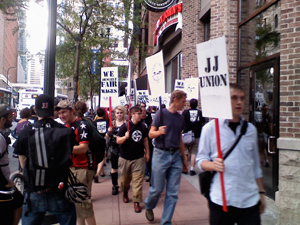 MINNEAPOLIS - Jimmy John's franchise owners Mike and Rob Mulligan awoke to an unpleasant surprise last week as employees disrupted construction of the newest store in the chain with picket lines.
The picketing sandwich workers appealed to members of Minneapolis building trades unions working on the new store to down their tools until the Mulligans agree to meet with the newly-formed Jimmy Johns Workers Union.
"If Mike and Rob Mulligan have $300,000 to open another Jimmy Johns, then they have the money to meet our demands for a decent wage, consistent hours, and basic fairness at work. If they're not going to meet with us, then we have no choice but to hit them where it hurts. We are happy with the outcome of today's action– construction at the site was delayed for about an hour," said Davis Ritsema, a member of the union.
Most construction workers employed under a union contract in Minnesota have the right to refuse to cross picket lines. Under Minnesota state law, motor vehicles are required to come to a complete stop at picket lines so that picketers can appeal to the driver not to cross the line.
The Jimmy Johns Workers Union, open to employees at the company nationwide, is the first fast food union in the nation, and is affiliated with the Industrial Workers of the World labor union. Gaining prominence in recent years for organizing Starbucks workers, the IWW is a global union founded over a century ago for all working people.