Kosher business refuses to pay $260,000 in back wages to fired workers
Submitted on Sat, 11/27/2010 - 2:39pm
Disclaimer - The opinions of the author do not necessarily match those of the IWW. The image pictured to the right did not appear in the original article, we have added it here to provide a visual perspective. This article is reposted in accordance to Fair Use guidelines.
By Izabela Rutkowski and Erin Durkin - New York Daily News, November 26th 2010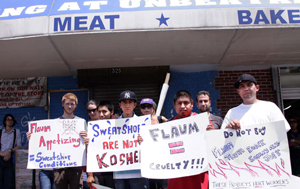 A Williamsburg kosher food company is locked in a battle with former workers who charge they were stiffed out of overtime pay - and then fired when they complained.
National Labor Relations Board investigators found that Flaum Appetizing Corp. illegally booted the workers, and ordered the company to cough up around $260,000 in back pay. But owner Moshe Grunhut has refused to comply - saying he won't pay the workers because they're undocumented immigrants.
The fired employees said they spent years working as much as 80 hours a week for minimum wage with no overtime, for bosses who often peppered them with verbal abuse.
"I worked 11 years for that company and I never received a dollar of overtime or one holiday or one sick day, nothing," said Gustino Romero, 32, of Bushwick. "I worked from 7 in the morning until 10 or 11 at night. ... We always asked for [overtime], but they said no."
Maria Corona, 36, of Williamsburg, said frequent insults from her boss made the situation worse.
"The manager called us cockroaches, tarantulas, all kinds of offensive names," she said. "The truth is we were unfairly exploited."
When the workers tried to form a union and went on a brief strike in 2008, management ordered them off the Flaum premises - a move the National Labor Relations Board ruled was illegal retaliation.
Grunhut said he always paid required overtime and insisted he told the workers not to come back because he discovered they were in the U.S. illegally.
"I treat my workers with respect and dignity," he said, blaming union organizers for stirring up the controversy.
He's asking the NLRB to let him off the hook for the back pay, and the two sides are scheduled to appear before the board again Dec. 8.
"There was no question regarding immigration status for over a decade as workers were sweating every day to make and distribute his product," said Daniel Gross, executive director of Brandworkers International, an advocacy group backing the workers.
Meanwhile, the workers have conducted protests at kosher supermarkets where Flaum's pickles, hummus other products are sold. They've also enlisted an Orthodox Jewish group to exert pressure on Grunhut.
"We can't just focus on ritual and ignore the ethical side," said Ari Hart, co-founder of the group Uri L'Tzedek, which translates as Awaken to Justice.
"The Torah talks in multiple places about how it's really important to pay a worker the worker's full wages and respect a worker," Hart said.